4 Ingredient Banana Pancakes – Today the kids wanted something different for breakfast and asked for pancakes….well did they have fun eating pancake after pancake until they could eat NO more!
Banana pancakes are a hit in our house and this easy 4 ingredient recipe is not only healthy it's delicious.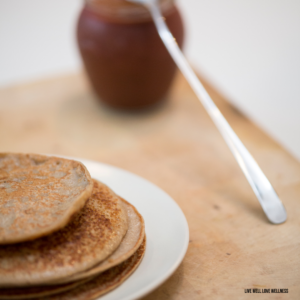 4 Ingredients for Banana Pancakes
You will need:
2 large ripe organic bananas
5 organic/free-range eggs
1/2 cup almond meal
1/4 cup arrowroot flour/tapioca flour
Method for Banana Pancakes
Place all ingredients in the food processor and blend. Cook in the pan on low heat with some organic coconut oil until golden brown.
Drizzle maple syrup on top and enjoy.
Delicious!
You may also like to try our:
Enjoy!