Choc Orange Bliss Balls is a 4 ingredient raw treat recipe that the whole family will love. Full of goodness it offers a great healthy option.
When I first started on our food overhaul, eliminating all chemicals in our food, I set out to find some really easy, simple, everyday recipes that I could whiz up in 10minutes for the whole family. I was looking for fun, delicious raw treats that were full of goodness, protein, vital nutrients yet were not full of additives, colours, and processed sugar.
This was an interesting process as traditionally so many recipes contained wheat, dairy, additives and undesirable ingredients. I had to think differently and I came across some great bloggers, got lots of great ideas and started to create. I switched out our pantry for all additive free ingredients, raw ingredients that were gluten free and not refined. This process happened quickly but it was very exciting and the best thing we ever did for our family.
Because we eliminated the chemicals in our food early on our kids don't consume additives, processed food and nasties they just enjoy the wonderful, natural flavours of decadent cocao, mouth watering pure orange, crunchy cashews and sweet delicious dates. There is so much you can achieve with these basic ingredients.
Lunch box items have been easy with raw treat inspirations like these. If you need a nut free version of our choc orange bliss bliss balls just substitute the cashews for sunflower seeds/pepitas and it tastes just as good!
The journey for us was well worth it and the knowledge around food and what is actually serving your body has grown over time as part of all of this. I am so grateful that my learnings and recipes can help others to make some great changes for their family too. Many were asking for our recipes so we decided to create our first homemade digital cookbook that you can print and bind with one page recipes on all the recipes that have served us well with 3 growing kids.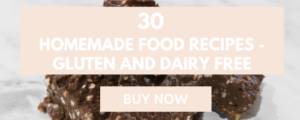 Choc Orange Bliss Ball Recipe
What you need:
-3 Cups Cashews (nut free use sunflower/pepitas)
-½ Cup Raw Cacao
-24 Medjool Dates (Pitted)
-5-10 drops Wild Orange Essential Oil (We use 10 Drops for a stronger Orange flavour)
-½ Cup Desiccated Coconut (for coating)
How to do it:
Put all ingredients in a food processor and turn on.
Once all ingredients are combined and start to clump together – stop the food processor
Roll the mixture in to balls and roll in the desiccated coconut
Enjoy!
Alternative options are to use Peppermint or Lemon Essential Oil as a substitute for Wild Orange for a different Bliss Ball Experience.
Our choc orange bliss ball recipe also features in our homemade food digital ebook.