What is a BOGO?
doTERRA BOGO October 2023 is Buy One, Get One. Every so often, we offer a BOGO deal: if you buy a specific oil, we give you another oil or related product for free. This is our way of helping you get more of the essential oil products you love!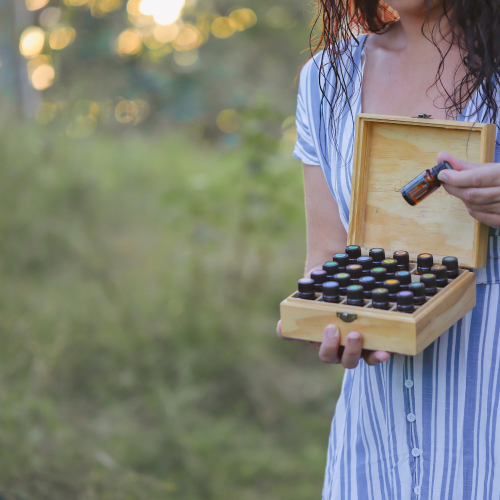 Whether you're wanting to expand your essential oil collection, build a natural medicine cabinet or you just love getting free oils, BOGO deals are for you. A few times every year, doTERRA surprises customers and Wellness Advocates with these Buy One, Get One deals that you won't be able to resist.
How to BOGO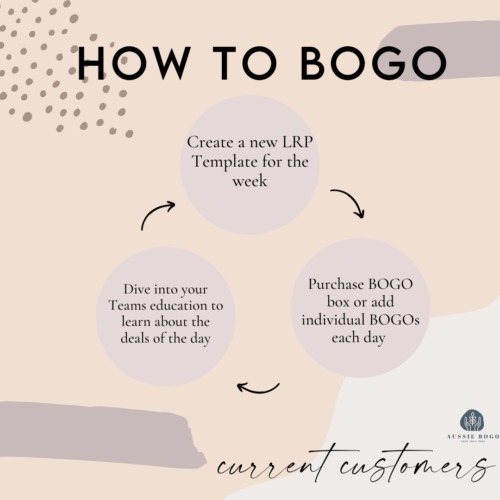 doTERRA BOGO October 2023 is starting October 16 for 5 days only, doTERRA are giving you the chance to make a positive impact on your wellbeing and help others take advantage of our life-changing oils with daily BOGO buys, and free enrolment with our BOGO Box.
Promotion Rules
Each DAILY BOGO offer runs from 10am AEST until 11:59 pm AEST or while stocks last.
Orders must be processed during this window in order to receive the free item(s). The free item(s) from the BOGO will not save to a Loyalty Rewards Program (LRP) order scheduled to process on a later date, but you can add the "buy one" product to your template and "Process Now".
The BOGO BOX will be available from Monday 16 October 10am AEST – Friday 20 October 11.59pm AEST or while stocks last.
The BOGO BOX is limited to 5 per account. The DAILY BOGO offer has a limit of 5 per account.
Points cannot be used to purchase DAILY BOGOs or the BOGO BOX.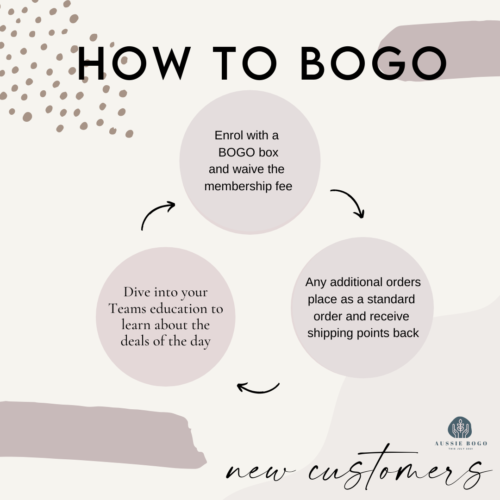 Purchasing a BOGO
Add the "buy one" product to your order. BOGOs can process on one-time, loyalty (LRP), enrolment and retail orders.
– Do not add the free item. It will appear in your cart automatically once the "buy one" item is added.
Click "Proceed to Checkout" to review your order.
Select "Process Now".
– The order must process on the day of the promotion. Do not save the BOGO to process at a later date.
Frequently Asked Questions
Will BOGOs last all week?
This BOGOs will happen from October 16–20, 2023.
Can I save a BOGO to process with a scheduled loyalty order?
No. BOGOs don't save to Loyalty Rewards Program (LRP) templates. If you save the BOGO to your scheduled loyalty order to process later, the free item won't be included in that order. Your loyalty order must process on the day of the BOGO to receive the free item.
Can I use points to participate in BOGOs?
No. Points cannot be used for BOGO promotions.
How do I know if my order has been placed and processed correctly?
An order confirmation email will be sent to the email address listed on your doTERRA account.
I missed the BOGO. Can I get an exception?
No. These special offers are available for the specified time period only.
Which markets are eligible to participate in BOGOs?
Unless otherwise advertised, BOGOs are available to AUS and NZ. International markets participate in separate promotions. Check with your specific market for details.
Do BOGOs qualify to earn Loyalty Rewards Program (LRP) and Shipping Reward Program (SRP) points?
Normal rules apply. To receive LRP points, loyalty orders must be 50 PV or more. Free items don't contribute to PV. Orders qualify for LRP points based on normal qualifications.
My credit card is being declined. What should I do?
Make sure the security code (found on the back of your card) have been entered correctly. If you continue to have problems processing your order, immediately contact Member Services by calling (02) 8015 5080 or using the Live Chat feature on doTERRA Australia website.
---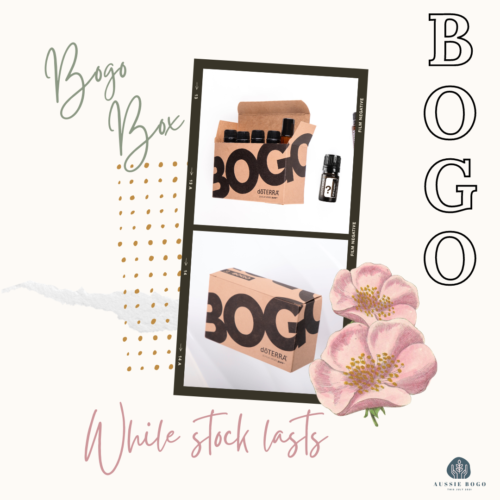 BOGO Box FAQ
How long is the BOGO Box available?
The BOGO Box is available starting October 20 2023 while supplies last.
What comes in the BOGO Box?
The BOGO Box includes all the BOGO items of the week, Monday through Friday. It also includes a special gift for you that you will not see in the individual deals.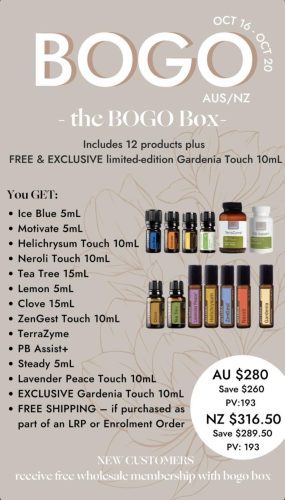 Can I enroll with the BOGO Box?
Yes! For new enrollees, membership is our gift to you when you purchase the BOGO Box!
Is there a limit?
There's a limit of two BOGO Boxes per account.
What if it's sold out?
If the BOGO Box is sold out, you can still participate in BOGOs each day, but you won't be able to ship everything at once.
Why does doTERRA offer the BOGO Box?
For customers who participate in the BOGO promotions multiple times during the week, buying the BOGO Box removes the need for several shipments. This reduces overall cost to the customer and decreases packaging needed for shipping each day.
Do I still get my full PV points? How many?
You get the PV amount for each essential oil you buy. This box has a total PV of 193pv.
How can I BOGO with my own account?
To purchase the doTERRA BOGO October 2023 you have two options – use your existing account, and if you don't already have an account you can create one here.
If you already have a doTERRA wholesale or wellness advocate account you can head over to the doterra login page and set up your LRP or standard order.
If you are a new customer and DO NOT already have a doTERRA wholesale membership then we are more than happy to help you set one up so you can access the benefits of the BOGO box and other BOGO deals.
Just click below and follow the steps,
Once your account is created you can start BOGOing!
Once you are all joined you will be added to our VIP community education group and access everything we have to offer our customers.
Once your account is set up you can follow the HOW TO BOGO instructions above.
HAPPY BOGOING!