Perineum Care for Birth Planning, Birth and Post Birth Recovery is a very important topic that doesn't get spoken about much.
For those who are in their pregnancy journey, moving through to birth and motherhood, this is a very important topic for you.
And today we're going to talk all about how to care for your body and your perineum.
What is the Perineum?
The perineum is the area of tissue between the vagina and anus.
During labour, the perineum stretches to accommodate the passage of the baby's head (the largest part of the baby).
Perineum care is a must, pre-birth, during birth and as part of the birth recovery.
We are going to to start by talking about birth preparation followed by perineum care during birth and then we will finish with the post birth recovery.
Perineum Care for Birth Planning
So let's talk about birth preparation.
Your perineum is really, really important to care for before you move into the birth process.
There's a window of opportunity from about 36 weeks onwards where you can start doing certain things for support.
I'm going to share with you today a few tips around what you can be doing.
This topic is not necessarily discussed between women and their care provider which is disappointing as it is such a crucial part of the birth experience and plays a huge role in preventing trauma post birth.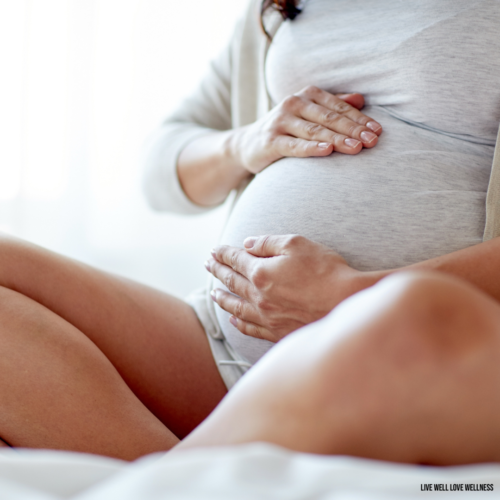 You are presented with a beautiful opportunity to research this topic and to start supporting your own body in preparation for birth.
Perineum Massage
So the first one that is often talked about and you will find information on this quite easily is perineum massage.
The idea behind perineum massage is to start preparing the perineum for stretching during birth.
There is much talk about whether massage is beneficial, however I do know one thing and that is just applying oil on your perineum will make a difference.
You can use a solution such as an oil based solution with fractionated coconut oil and essential oils.
Essential oils for perineal massage are growing popular as women experience the benefits from using them.
The best oil for perineal massage is a combination of essential oils and this is the recipe that I personally used….
I used a recipe of 1 drop geranium, 1 drop lavender and 1 drop frankincense mixed in fractionated coconut oil and would apply daily to the perineum area.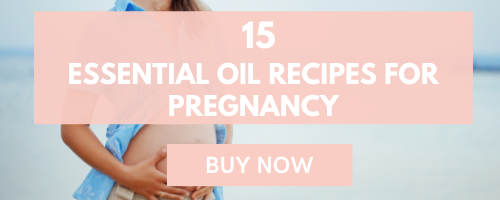 Combining this with massage may increase the stretchiness of the skin, however just applying the oil will also make a positive difference.
When you choose the essential oils for perineal massage make sure they are of top notch quality.
The best oil for perineal massage will come from a company that is transparent with it's testing and testing results, where their oils come from and how they are sourced.
You need to source therapeutic grade oils so they play a beneficial role in achieving your desired outcome.
It is important to be using a quality oil that is not adulterated and contains no artificial chemicals.
If it is a quality oil than it is safe to use with a carrier oil such as fractionated coconut oil.
Have you heard of an Epi-No?
There is also a popular tool called an Epi-No.
I did not know about this device when I had my children, but it is becoming quite popular.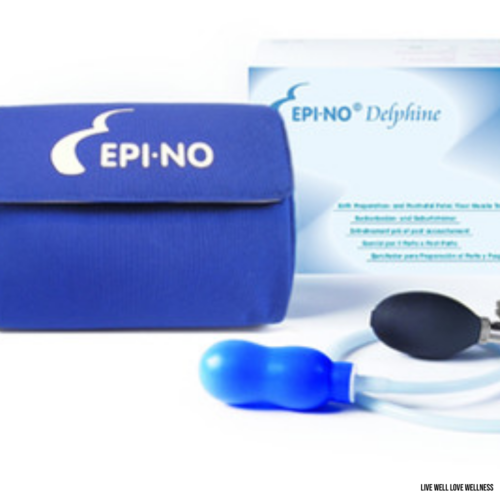 According to Sam McCulloch Dip CBEd from a belly belly article on Does The Epi-No Reduce Vaginal Trauma?:
"The Epi-No is an inflatable balloon, attached to a hand-operated pump with a pressure display – similar to a blood pressure pump.
This device is advertised as a childbirth and pelvic floor trainer, and is used during late pregnancy to allow women to connect with their pelvic floor.
Supporters of the Epi-No suggest the device reduces the risk of tearing and the need for episiotomy, and that it improves recovery outcomes following birth.
There is no research data to support these claims. A recent study looked at outcomes after birth, in women who had an uncomplicated pregnancy.
It found no evidence that Epi-No prevented pelvic floor trauma.
At the same time, there appear to be no negative effects from using the Epi-No.
It could be helpful for women who have strong negative emotions surrounding the second stage of labour.
Using the device for preparation for giving birth might help them to overcome their fear and be more relaxed during labour.
Some women experience a lot of fear associated with pushing and crowning during birth.
They find the device helps them to identify and connect with the sensations of pressure and stretching which occur during the second stage.
These women often report less anxiety and more confidence about their birth."
This is definitely a tool you could look at and see if it may be right for you.
Even talk to your care provider about the Epi-no as well.
Pelvic Floor Exercises to support Perineum Care
It is crucial to continue to do your pelvic floor exercises.
According to Fitfor2, your pelvic floor is a sling of muscles, a bit like a hammock, that is formed between the pubic bone at the front of your pelvis to the coccyx at the back. The pelvic floor supports your uterus, bladder, bowel & assists with a healthy sex life.
Sounds important, right?
You absolutely bet it is!
For this reason, particularly for us as women, a healthy pelvic floor is such a vital part of being a Happy & Healthy Mum & Wife.
If there is any advice I could share with you about preparing for the safe & healthy delivery of your child, it would be to get involved in a safe pelvic floor exercise program that is designed to help you become strong & confident from the inside out."
Make sure you use a certified pregnancy & post-birth fitness trainer.
I personally recommend Anita Guerra from Fitfor2 as she is amazing and is fully trained to support you on your journey.
Perineum Care during Birth
Perineum care during birth is extremely important.
There are things that you can do to support your perineum which I am about to talk about now.
Relax the Pelvic Floor to Support a Positive Birth
Many women feel anxious and fearful when it comes to giving birth to their baby.
Both anxiety and fear create stress in the body which creates tension and it can be very difficult for women to relax during birth.
Practicing calmbirth, hypnobirthing and relaxation techniques before and during labor help immensely for a womens body to relax and let go of anxiety and fear.
Investing in yourself to learn these techniques may be the difference between having complications or not.
I am not saying they will remove the risk, but these techniques do help to create a more positive and less traumatic experience.
When a women removes the tension in her body and relaxes so does her pelvic floor.
Having a relaxed pelvic floor in birth is essential for the baby to come out with ease.
A technique that worked extremely well for me and helped my body to relax was using essential oils as a way to calm, and ground the mind before birth.
I used essential oils safely thoughout my pregnancy and birth experience with amazing outcomes.
Diffusing essential oils in your birth space is now very popular and effective.
Calming and relaxing essential oils on my list are:
Balance Blend,
Lavender Peace Blend,
Lavender,
Copaiba,
Adaptiv,
Frankincense, and
Wild Orange.
I personally use the doTERRA brand and you can access them at 25% off here.
Perineum Support for Pushing Stage
When you are in the pushing phase it is crucial that you work with your care providers.
I talked with my midwife about how I wished to use a crowning support solution during the pushing stage.
A crowning solution can be gently massaged on the perineum during crowning and both baby's head for bruising, swelling and bleeding.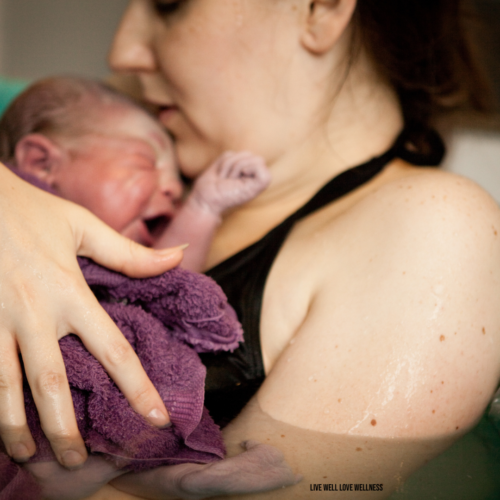 The clowning oil can be placed on the perineum as baby is crowning to help stretch and minimise the chances of tearing.
For my crowning oil solution I personally used a combination of 20 drops Helichrysum and 20 drops Frankincense diluted in 30ml of fractionated coconut oil which was amazing with a cold compress (some use warm).
Talk to your midwife in terms of which compress they suggest and that will just help with the crowning discomfort.
My midwife was fabulous and applied this without hesitation which created a lubrication for crowning and helped stretch the tissue while minimising pain and swelling and avoiding tears.
Massage of the perineum by the caregiver or the midwife when you are giving birth is also very helpful, so you can talk to providers about this for guidance.
Benefits of Water to support Perineum Care
You can also utilise the brilliance of water and try having a bath.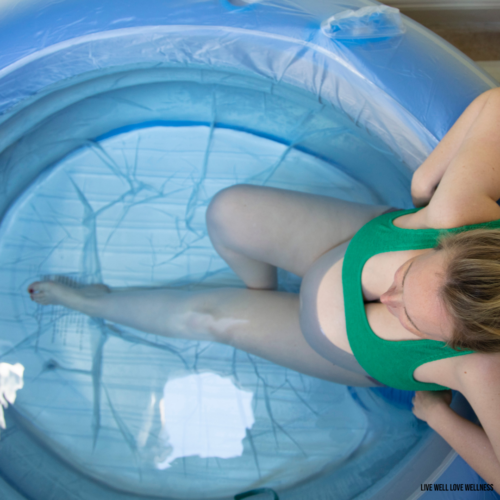 You may choose to labor in the bath or give birth in the bath, whichever way submersing your body in the water will be supportive.
Spending time in the water is amazing because the water helps soften your skin, and so that is going to help the elasticity and the stretch ability of your skin when you are giving birth.
This will support the stretching of the perineum and reduce the likelihood of tearing.
Many also find water to be a great natural way to reduce pain also.
Submersing yourself in water takes weight off your body, promotes relaxation and comfort.
It may definitely be something you would like to consider.
Work with your Care Provider
I personally remember just listening to the midwife, as she was telling me what to do during delivery.
Push, stop, hold.
Be guided by what your care provider is telling you because they can see what is going on and will work with you and your body so that you don't have complications.
If unsure ask questions, ask as many as you need to be comfortable with your decision.
Allow those helping you to assist and just listen and work together to get the best outcome for your body.
Sometimes women request a hands off (you do it yourself) versus a hands on approach (care provider is an active support).
It's very much an individual thing, however know that preparing your body for the hands off approach is always going to be more supportive than not preparing at all.
So those are my birth tips for you.
Postpartum Perineum Care
Once baby is born, we then navigate the birth recovery phase, and this is really important.
Often there's a lot of swelling and soreness around the perineum area after birth.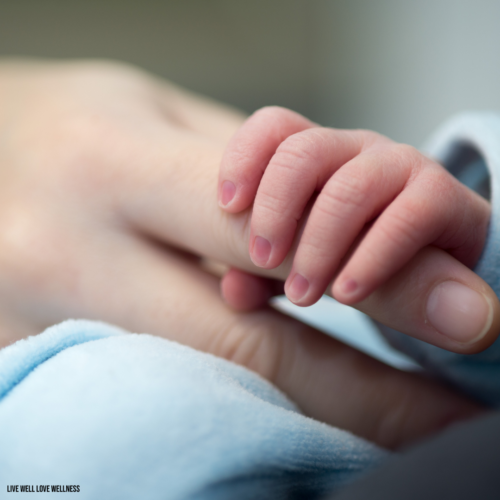 Pelvic floor activation and relaxation is really helpful.
Having a strong pelvic floor is going to help your body to bounce back and recover.
Try and do your pelvic floor exercises whenever possible.
You can be doing the exercises while you're breastfeeding, or just relaxing on the couch.
Utilise every opportunity to do your pelvic floor exercises.
Perineum Spray and Ice Pack
You can make a perineum spray for perineum care after birth.
I personally used lavender, frankincense and geranium with some filtered water in a spray bottle.
Every time you have a shower or you go to the toilet, just spray the area afterwards.
Apply consistently to support from a healing and swelling point of view.
An ice pack is really supportive for the swelling as well.
You can get specific shaped ice packs to support the perineum that are easy to use.
They can be frozen or heated up depending on the need.
Keep the Bowels Healthy to Prevent Strain
Resting post baby is key.
Try not to sit for long periods of time because that puts a lot of pressure on your perineum area and all the areas that are swollen.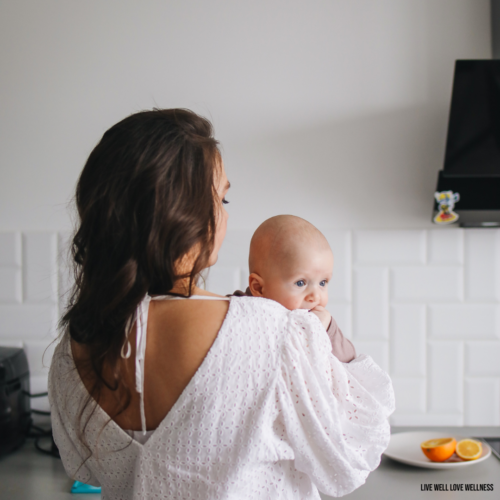 So if you can be laying down and taking the pressure off those areas, that is really beneficial.
Make sure you're drinking lots of water and you're eating foods that are not going to make you constipated because you don't want to have any issues with your bowels.
You want to keep the bowels healthy, so you are not straining when you need to go to the toilet.
This is a very important tip because if you strain you are putting added pressure on the perineum area.
A Salt Bath for Perineum Support
A salt bath is really good to support the healing process and to support the swollen area.
You can even place a drop of lavender or frankincense in the bath as well.
Just be sure to use a good, unadulterated and pure product.
You may like to consider taking a bath to gain some relief.
After the bath, apply the perineum spray and also use an ice or heat pack depending on which works best for you.
Women are different.
Some gain relief from heat others from cold.
Just see what works for you.
I received relief in the swollen areas from coolness.
I found that to be very good.
However used heat packs on my abdomen for after pains which were amazingly helpful.
It is a personal choice, but know that you can be utilising either cool or warm options.
Recap on the Perineum Care for Birth Planning, Birth and Post Birth Recovery
So just to recap on how to support your body and your perineum area for birth, during birth and in the post recovery phase.
So let's just quickly recap the birth preparation:
Perineum massage,
Perineum spray,
Epi-no, and
Pelvic floor exercises in pregnancy.
Even if you are not doing perineum massage, you can just apply the oil solution on the area and that will still be beneficial.
During birth you can consider:
Relaxation of the pelvic floor,
Use a crowning oil solution (essential oils and fractionated coconut oil),
Cold or warm compress,
Take a bath, utilise water to support your birth process,
Massage the perineum by the caregiver or the midwife or whoever is supporting you, and
Guidance to support minimised tearing.
Make sure you've prepared your body for birth, and that is definitely going to be supportive whichever way you choose to birth.
For the post birth recovery:
Pelvic floor activation and relaxation,
Ice pack or heat pack support,
Perineum spray,
Rest, and take the pressure off the perineum area,
Salt bath to really support the body, and
Keep your bowels healthy so you don't have any strain.
Those are the tips that we really love to share with women to help them on their own personal journey.
If you would like to hear me talk on this topic, please watch our video below:
Hope you have enjoyed learning about Perineum Care for Birth Planning, Birth and Post Birth Recovery and that the tips we have shared with you will help in some small way.