doTERRA On Guard+ Softgels combine the proprietary blend of dōTERRA On Guard Protective Blend with Black Pepper, Oregano, and Melissa essential oils for additional immune support.*
doTERRA On Guard+ is a great way to strengthen and maintain healthy immune function when seasonal threats are high.*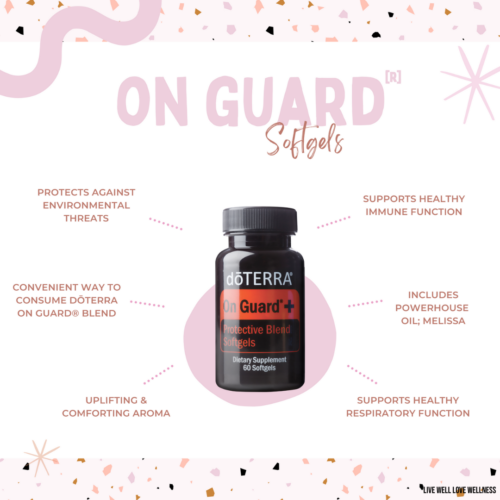 Encapsulated in vegetarian softgels, this distinctive blend contains essential oils known for their positive effects on the immune system and their ability to protect against environmental threats.*
doTERRA On Guard+ should be taken on an occasional basis.
Why use On Guard Softgels
There are many reasons why to use On Guard Softgels:
Take 1 or more softgels as needed to promote healthy immune function. 
Use to support the body's natural antioxidant defenses
Provide an easy and convenient way to enjoy the benefits of the doTERRA On Guard Blend
Take to help protect against environmental threats
Supports healthy respiratory function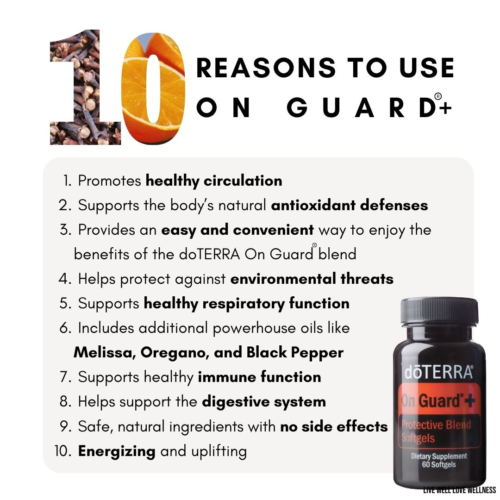 Includes additional powerhouse oils like Melissa, Oregano and Black pepper
Helps support the digestive system
Safe, natural ingredients with no side effects
Energising and uplifting
With this array of support, these little gems are a must as part of your proactive approach to health and wellness.
On Guard Softgels and their Primary Benefits
On Guard softgels contain some powerful and effective essential oils that offer amazing benefits to the body.
Wild Orange Peel: protects the body against seasonal threats*
Clove Bud: supports a healthy immune system*
Black Pepper Seed: May help support healthy inflammation*
Cinnamon Leaf/Bark: promotes healthy immune function*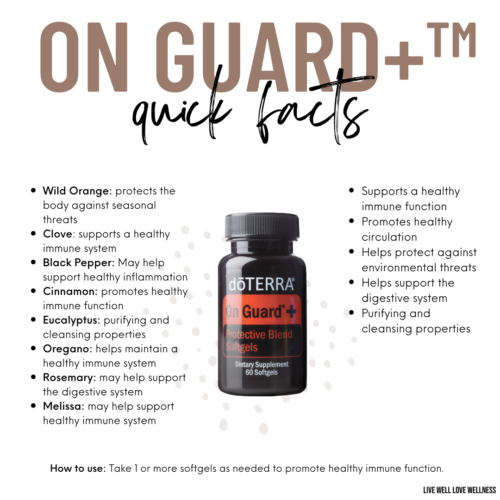 Eucalyptus Leaf: purifying and cleansing properties*
Oregano Leaf: helps maintain a healthy immune system*
Rosemary Flower/Leaf: may help support the digestive system*
Lemon Balm Leaf/Stem: may help support healthy immune system*
On Guard doTERRA Australia
On Guard softgels are NOT currently available in Australia however you can purchase them from the US warehouse through your Australian account.
Anyone can log into their doTERRA wholesale account at mydoterra.com.
How to get On Guard Softgels in Your Life
If doTERRA's On Guard Softgels sound like something you would like to experience you can do so with a wholesale account.
A wholesale account gives you access to doTERRA's products and essential oils at 25% off retail price.
All you have to do is set up your own doTERRA wholesale account and choose the softgels from the international warehouse being the US (for all Australian account holders) or locally for US account holders.
Click below to access the wholesale essential oil account perks and learn how to take advantage of the wholesale essential oil pricing today.
We enjoy the On Guard capsules on a daily basis which helps us to maintain a healthy immune function.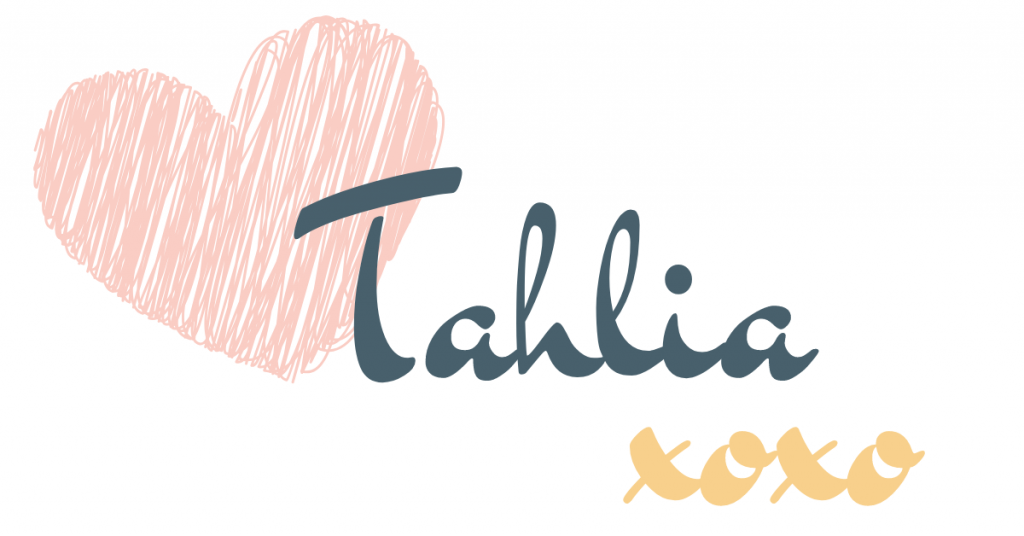 *These statements have not been evaluated by the Food and Drug Administration. This product is not intended to diagnose, treat, cure, or prevent any disease.