Using a natural mattress cleaner is important to help us ensure our bed is clean and we are protecting our health.
We spend one third of our life in our bed and it is important that our space and environment is not making us unhealthy.
Why should you clean your mattress?
Cleaning your mattress with a natural cleaner reduces the risk of allergies and itching.
Dust mites and fungi can trigger allergies which can disrupt your sleep and make it uncomfortable for you when using your mattress. Cleaning your mattress reduces the risk of allergies, itching, and prevents certain illnesses by getting rid of harmful bacteria.
Business Insider Australia revealed 8 things that are lurking in your mattress that you probably have never thought about:
Cosmetics
Fungal Spores
Sweat
Allergens
Food
Bacteria
Skin Cells
Chemicals
Natural Mattress Cleaner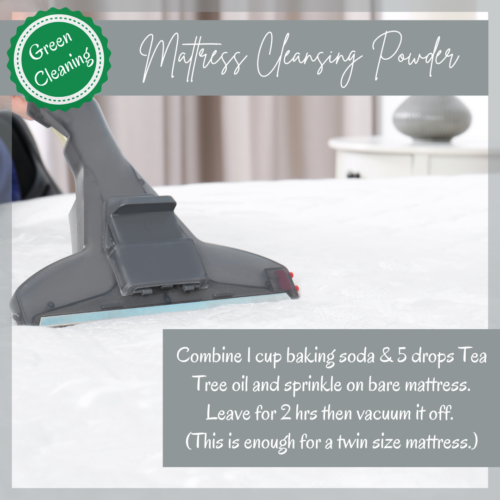 Cleaning your mattress with a natural cleaner is a simple yet effective way to support your health.
What you need:
1 cup baking soda
5 drops essential oils (doTERRA tea tree and purify work great)
Combine in a shaker and sprinkle over mattress
Leave for 2 hrs then vacuum off
Natural Mattress Spray
To create the mattress freshening spray:
Add 3 drops of doTERRA Lemon, Tea Tree, Eucalyptus and Peppermint Oil into a 60ml glass spray bottle
Add 1/2 teaspoon of Witch Hazel
Top the bottle up with Filtered Water
Spray on mattress as needed
Shake well before use
This is a great freshening spray to use each time you change the sheets and in between doing the full mattress clean with the natural mattress cleaner mentioned above.
How to find Quality Essential Oils for my Natural Mattress Cleaner
Finding quality essential oils can be difficult and it took me a lot of time and energy to find the best brand available on the market.
I personally use doTERRA because they are the most pure, unadulterated essential oils available. They hide nothing and offer their clients 100% transparency which no other company does. You can read more about why I choose doTERRA here.
In order to get your hands on these oils, you can purchase them at 25% off by following the link below…
Hope you enjoy making this great natural cleaner.