Making bath bombs can be super easy and fun but make sure you use natural ingredients that are not toxic for your skin.
So many commercial bought bath bombs contain fragrances and artificial colours that are harmful to our health and that of our kids.
Why stop using Commercial Bath Bombs
Commercial bath bombs contain toxic synthetic fragrances (this is what gives them the strong smell) and nasty dyes.
A report by the National Academy of Sciences reveals that approximately 95 percent of the chemicals used in synthetic fragrances are derived from petroleum (crude oil). These chemicals include things like carcinogenic benzene derivatives, aldehydes, toluene, and a bunch of other toxic chemicals linked to cancer, birth defects, allergic reactions, and central nervous system disorders.
It is recommended that you stay well away from these types of chemicals and start to make your own homemade bath bombs to look after your families health.
This inspired me to share these fun and natural bath bomb recipes with you.
How to make Bath Bombs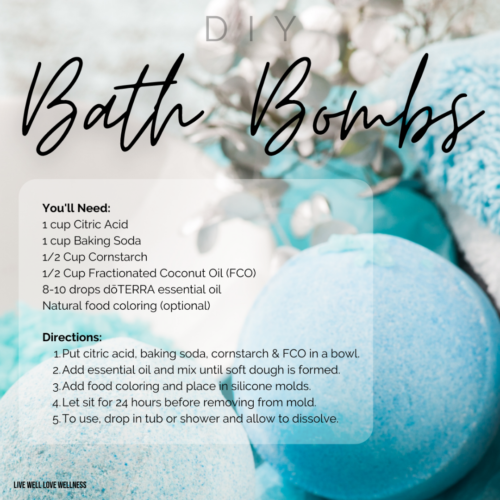 What you will need:
1 cup Citric Acid
1 cup Baking Soda
½ Cup Cornstarch
½ Cup Fractionated Coconut Oil
8-10 drops dōTERRA essential oil (Adaptiv, Balance and Lavender)
Natural food coloring (optional)
How to do it:
Put citric acid, baking soda, cornstarch & FCO in a bowl.
Add essential oil and mix until soft dough is formed.
Add food coloring and place in silicone molds.
Let it sit for 24 hours before removing from mold.
To use, drop in tub or shower and allow to dissolve.
More Fun and Natural Bath Bomb Recipes
Calming Bath Bomb Recipe
These great calming bath bomb recipe promotes calmness and feelings of tranquillity and relaxation. Great after a stressful day.
Use the core recipe above but switch the essentials oils required to Lavender, Balance and Bergamot.
Citrus Bloom Bath Bomb Recipe
Citrus bloom is a magnificent blend of Wild Orange, Grapefruit, Lavender, Roman Chamomile, and Magnolia essential oils.
This bath bomb is for the tired mum who needs some self care time to relax and rejuvinate.
Fizzing Bath Bomb Recipe
This fizzing bath bomb recipe contains lavender and citrus bliss essential oils that are an incredible combo of calming and revitalising. It will remind you of a relaxing spa treatment and you will enjoy immensely.
Coconut Bath Bomb Recipe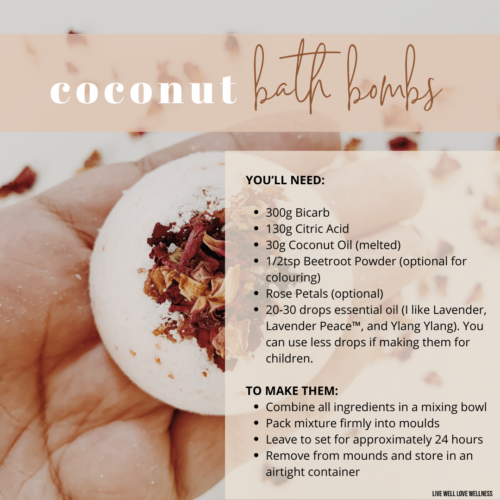 This coconut bath bomb recipe is a beautiful combination or coconut and florals. Inspired for all those that need to make selfcare a priority.
Gingerbread Bath Bomb Recipe
If you are keen to have some fun making a bath bomb that's a little different? If gingerbread is your thing then you will love these.
All you need is some baking soda, epsom salts, citric acid, FCO, vanilla and some good old spices and essential oils.
Follow the instructions above and enjoy.
How to find Quality Essential Oils for my Bath Bombs
Finding quality essential oils can be difficult and it took me a lot of time and energy to find the best brand available on the market.
I personally use doTERRA because they are the most pure, unadulterated essential oils available. They hide nothing and offer their clients 100% transparency which no other company does. You can read more about why I choose doTERRA here.
In order to get your hands on these oils, you can purchase them at 25% off by following the link below…
Hope you enjoy making some of these bath bomb recipes.