I'm excited to share with you my favorite essential oils in water to drink.
Ever wondered what you can use that's natural, yet will jazz your water up a little and make it more fun and palatable?
I personally love using food grade, therapeutic essential oils. They add so much flavor and have amazing health benefits.
Back story – how I got started with essential oils in water
For a long time I would add lemon juice to water to kick start the day which has amazing detoxification and cleansing benefits.
However, after speaking with many people they did warn me of the effects that the acidity of the lemon juice would have on the enamel on my teeth.
After that, I explored the use of lemon oil in my water.
The lemon essential oil has similar properties to lemon juice which are amazing.
It is delicious and refreshing and I feel really energized when I drink it.
I then explored other oils in my water and now enjoy a series of different flavors.
Not only is it a great way to mix it up, enjoy change, and different flavors but I will choose an essential oil to use based on what I feel my body needs.
For instance, I love to kick start my day with certain oils, enjoy others throughout the day, some support metabolism so I drink them when exercising, others help digestion and some support the immune system.
I am in tune with what my body needs and so intuitively select which essential oils in water to drink that way.
Why use essential oils internally?
When you want to experience the uplifting, energizing, or calming benefits of essential oils, aromatic use provides a quick, easy way to get the benefits you want.
When you want to soothe, moisturize, nourish, or soften the skin, topical use of essential oils can efficiently deliver the desired effect.
What then, is the advantage of using essential oils internally?
While internal use of essential oils is a mystery to some, research has found plenty of safe, beneficial uses for essential oils internally.
Yes, aromatic and topical use of essential oils provides a variety of benefits; however, internal use can be equally beneficial when done properly.
Internal essential oil use offers some exclusive benefits for the body that aromatic and topical use simply cannot accomplish.
The benefits of internal use
One of the most common reasons for ingesting essential oils is to reap the internal benefits it holds for the body.
Each essential oil possesses a different chemical structure that will provide the body with unique properties and benefits.
For example, some essential oils can be used internally to promote healthy cell function, support gastrointestinal health, or maintain healthy immune function, while others may offer internal cleansing benefits.
* When used properly, essential oils hold a wide array of wellness benefits that can come from internal use.
Getting started with essential oils in water
For internal use, it is best to start with the smallest dose possible, 1–2 drops. From here, the dose can be increased as needed (again, this will depend on the age, size, and health status of the individual, as well as the desired benefit they are trying to achieve.) Dilute one drop in 120 mL of liquid as your base rule.
My top 6 essential oils to drink in water
I am excited to now share with you the 6 top essential oils in water to drink; the oils that taste delicious, make me feel good and have amazing supportive benefits for the body systems.
1.Grapefruit essential oil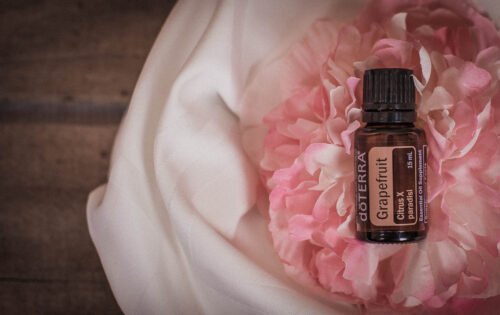 Grapefruit essential oil is known for its energizing, invigorating, and uplifting aroma. Grapefruit is also renowned for its strong citrus and fruity flavor. This oil tastes amazing in water and would be my favorite oil to drink in water every single day.
Grapefruit essential oil benefits* include:
Cleansing the body
Supporting mood
Supporting the immune system
Helping with fluid retention
Curbing sugar cravings
Helps with releasing weight
2.Smart & sassy essential oil blend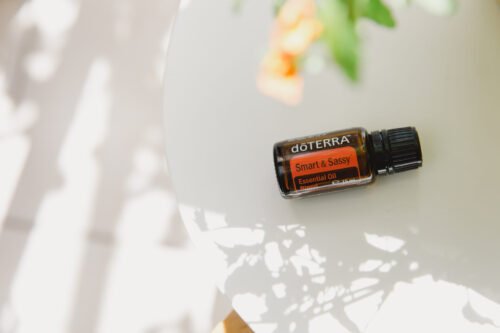 Smart & Sassy, the active blend, combines powerful essential oils. The flavourful blend of Smart & Sassy taken with water provides a fresh burst of citrus. A great companion to a healthy eating and exercise program. Its flavor and aroma are uplifting and stimulating to the senses. Smart & Sassy contains Grapefruit, Lemon, Peppermint, Ginger, and Cinnamon.
Smart & sassy essential oil uses include*:
Add to water or tea and drink before working out for a revitalizing aroma boost
Add to your water daily to support cravings, appetite and balance blood sugar
A great addition to your water while on a healthy eating and exercise program
3.Lemon essential oil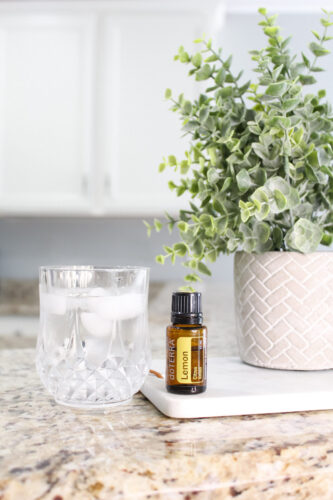 Lemon Essential Oil when added to water, provides a refreshing and uplifting citrus boost throughout the day. It is really yummy and you feel energized from consuming it.
Lemon essential oil benefits* include:
relieve nausea
improve digestion
nourish the skin
promote weight loss
purify the body
boost oral health
relieve cough and other respiratory issues
inhibit the growth of bacteria
4.Peppermint essential oil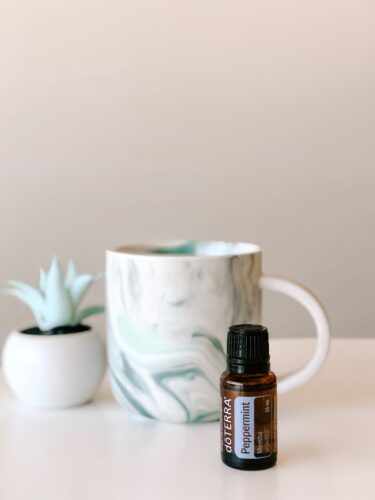 Peppermint Essential Oil ( Peppermint Mentha piperita 15 mL US market) is an all-time favorite and fantastic at supporting the digestive system and respiratory system.
The top uses are to:
Use a drop of peppermint oil with lemon oil in water for a healthy, refreshing mouth rinse.
Take one to two drops of peppermint essential oil in a Veggie Capsule to alleviate occasional stomach upset.*
Add a drop to your favorite smoothie recipe for a refreshing twist.
Place one drop of Peppermint essential oil in the palm of hand with one drop wild orange oil and one drop frankincense oil and inhale for a mid-day pick-me-up.
5.DigestZen essential oil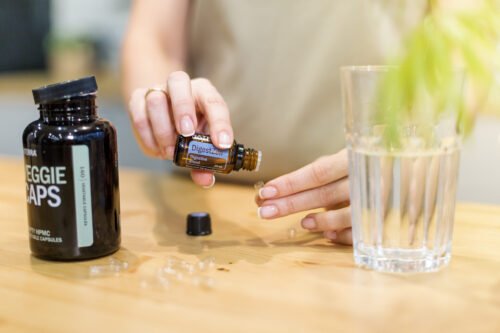 DigestZen contains ingredients that can be added to flavor food and water. This selected blend contains Ginger, Fennel, and Coriander essential oils, flavors that have been used in foods throughout the world for centuries. The essential oils of Anise, Peppermint, Ginger, Caraway, Coriander, Tarragon, and Fennel are also known for their soothing and settling aromas when inhaled.
DigestZen is great to have on hand. I love to add one to two drops to water with / after / before food to promote a feeling of satisfaction after eating. I find it balances my system and makes me feel really comfortable. My digestive system is happier when I use digestZen.
This is a great support oil if you have any tummy discomfort at all, no matter what the cause may be.
6.Lime essential oil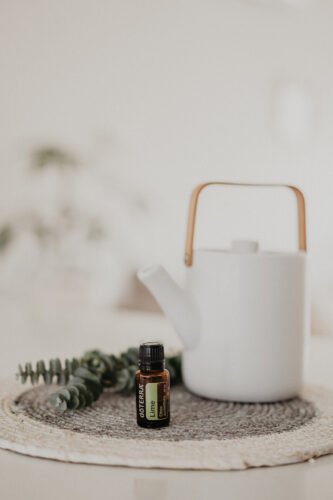 Lime Essential Oil is a citrus oil. The essential oil is cold-pressed from the rind of the fruit and brings us a zesty smell and flavor that is ideal to add to your beverages; be that a glass of water, soda water or an alcoholic drink such as vodka, lime, and soda.
Try as a subtle flavor replacement for lemon in recipes or add a drop of lime to your drinking water for an enhanced flavor.
It also supports* (as shared by Dr Axe):
Improved Heart Health
Enhances Weight Loss
Boosts Immunity
Increases Iron Absorption
In summary
All in all, you can have a lot of fun with a splash of oil in your water.
Not only can you enjoy the authentic flavor but you get to enjoy the amazing health benefits that come with using these amazing oils.
I love how you can use the doTERRA oils with confidence knowing they have invested so much into bringing us truly phenomenal essential oils, that are pure and potent and most of all safe in water to drink.
So I hope this has given you a few different essential oils to drink in water and helped you understand their individual benefits and uses.
If you are keen to grab your own set of essential oils to jazz up your water, click below and I will help you out:
---