Citrus Bloom Diffuser Blends offer amazing emotional support for the whole family. You can choose where you need to diffuse citrus bloom based on your families emotional needs. We have a diffuser by the bed, in the lounge and in the office and these are my favourite spaces to diffuse citrus bloom. Amazing for every member of your family to support stress, fatigue, mental fog and anxious feelings.
What is Citrus Bloom Essential Oil Blend?
Pairing the calming properties of Lavender, Magnolia, Neroli and Sweetgum essential oils with the uplifting energies of Wild Orange and Citrus Bloom Springtime Blend is the perfect essential oil fusion, combining the brightness of citrus peels layered with freshly cut florals. Greek Wild Orange and Pink Grapefruit essential oils deliver the sunny and fresh aromatic notes to Citrus Bloom Springtime Blend, which uplifts and energizes while helping to reduce feelings of tension.
The addition of Lavender, Roman Chamomile, and Magnolia adds a softer, sweeter touch that can help calm and soothe, leaving your emotions more balanced.
Start your day with the aromatic presence of Citrus Bloom Springtime Blend to promote feelings of joyful self-worth and to stimulate a focused mindset.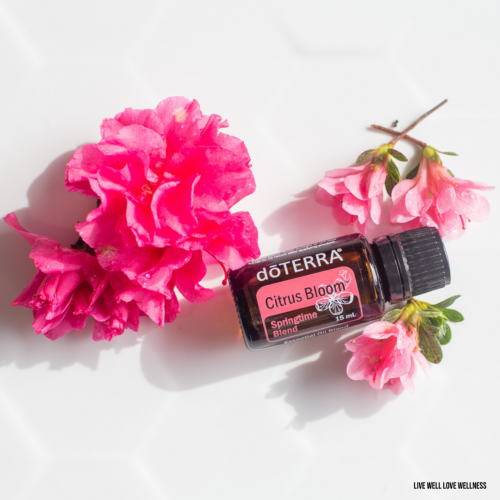 Benefits of Diffusing
Our smell sense is a powerful tool and can produce significant mental, emotional and physiological responses depending on how different aromas react with our brain.
As aromatic compounds, essential oils have the ability to disperse through the air quickly. Essential oils interact with chemical sensors in the brain, thus creating a response. When using essential oils aromatically, the scent travels through the nose to the olfactory system where it is processed and then travels through the olfactory nerve to the limbic system. Once in the limbic system, the scent triggers responses in the brain based on memories and experiences.
The Benefits of Diffusing Citrus Bloom Essential Oil
The main benefits of diffusing Citrus Bloom Essential Oil blend is: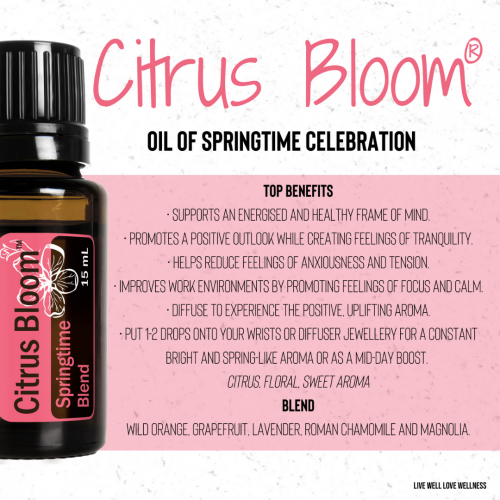 Citrus bloom supports an energised and healthy frame of mind, it promotes a positive outlook as well as helps reduce feelings of anxiousness and tension.
Citrus bloom is a positive and uplifting aroma, it promotes feelings of focus and calm.
Tense or feeling uneasy? The collective aromas of doTERRA Citrus Bloom Springtime Blend are part of your toolbox to help your body and mind stay balanced.
Citrus Bloom Diffuser Blends
There are many amazing diffuser blends that harness the brilliance of doTERRA's Citrus Bloom blend. Here I share a few of my favourite: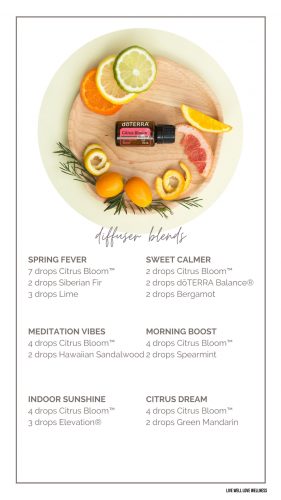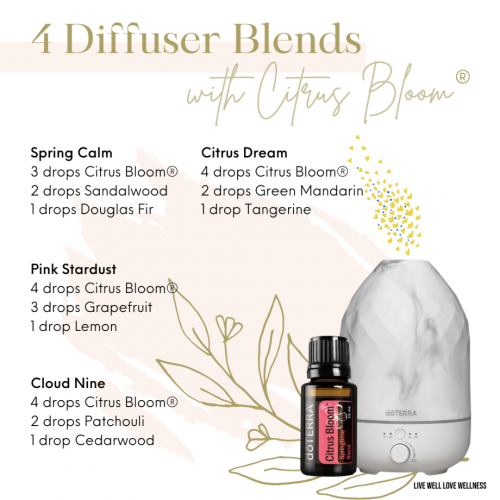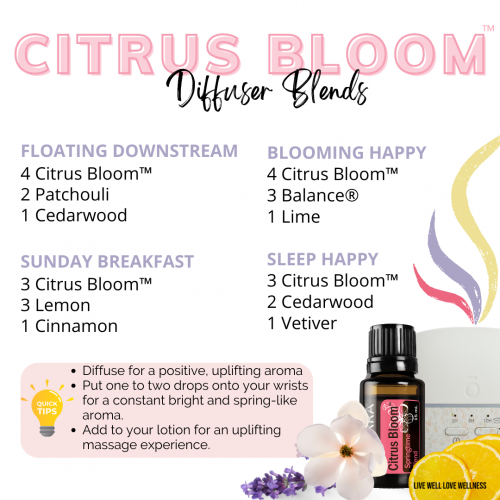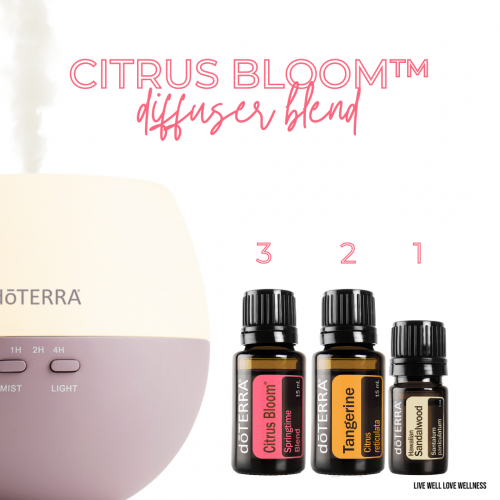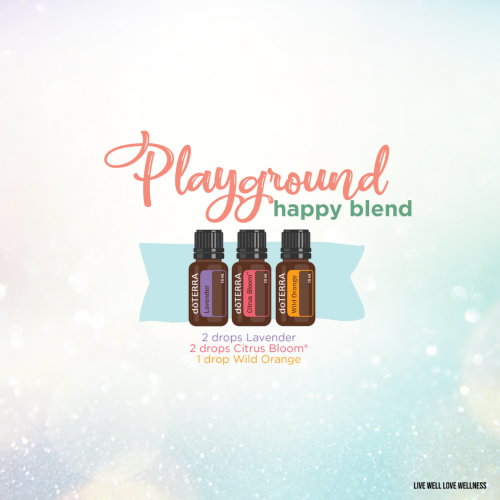 How to Get your own bottle of Citrus Bloom for Diffusing
If you would like to purchase the Citrus Bloom essential oil blend you can do so with a wholesale account. A wholesale account gives you access to DoTERRA's essential oils at 25% off retail price. All you have to do is set up your own DoTERRA wholesale account and choose which oils you would like to purchase.
There are also amazing starter kits available with bulk discount prices. The starter kits are amazing value and also waive the membership fee of $35. This alone makes them a very valuable and affordable way to purchase top quality essential oils. Not sure which starter pack to begin with take our quiz here to work out which one is best for you!
Click below to access the wholesale essential oil account perks and learn how to take advantage of the wholesale essential oil pricing today.