Adaptiv Essential Oil is an amazing oil by doTERRA, designed to help you combat those anxious feelings and create a calm when struggling with emotions.
With a wonderful blend of Wild Orange, Lavender, Copaiba, Spearmint, Magnolia, Rosemary, Neroli and Sweetgum essential oils, Adaptiv calming blend is really that…a CALMING blend.
Adaptiv Products
Adaptiv is an essential oil blend of eight incredible oils that offer the very best properties when it comes to supporting mood, calmness and tranquillity.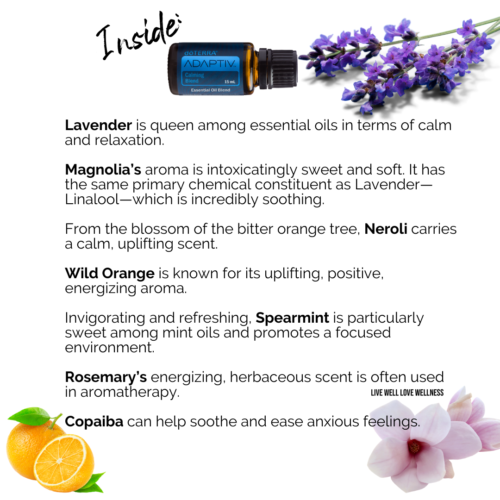 doTERRA's Adaptiv collection includes 3 different variations of this sensational doTERRA oil blend.
These variations come in the form of the Adaptiv Capsules, Adaptive Touch Roller and Adaptive Blend 15ml bottle to help your body and mind stay calm during life's stressful moments.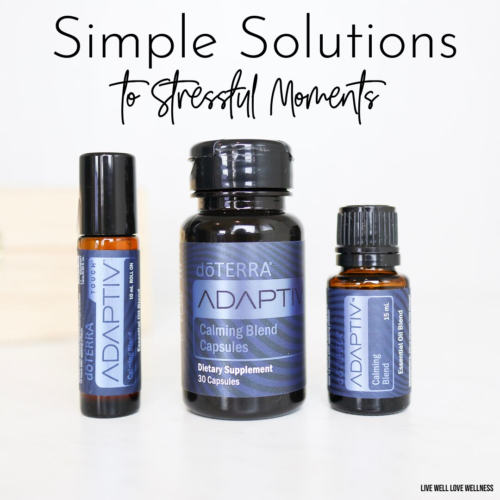 doTERRA Adaptiv Capsules
Take 1 Adaptiv capsule daily to help manage the effects of stress and anxious feelings. Including this as part of you daily supplement intake can help you manage and support your emotional wellbeing.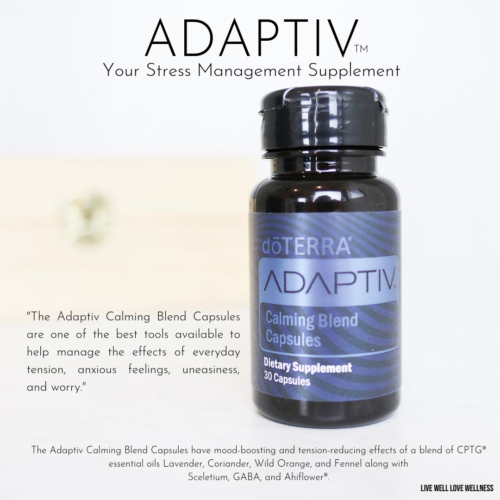 Adaptiv 15ml Calming Blend
As the perfect complement to the doTERRA Adaptiv capsules, the essential oil Calming Blend is the answer during some of life's most demanding moments. Diffuse or roll on to encourage feelings of calm confidence.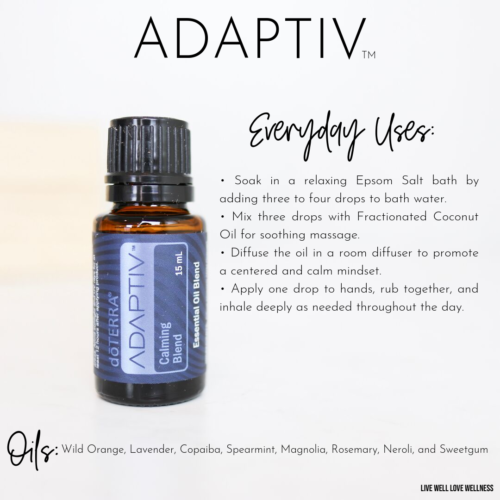 Use the doTERRA Adaptiv Capsules and its companion essential oil blend to help create a calm atmosphere and adjust to those more difficult situations.
Adaptiv Touch doTERRA Roller
The Adaptiv Touch Calming Blend is an absolute life saver for an on-the-go answer to those difficult moments life can throw at you. Feelings of restlessness, being wound-up, or on edge happen to us all from time to time, and having this available whenever and where ever you are means you will no longer have to struggle through those uneasy feelings until you can get home and manage them.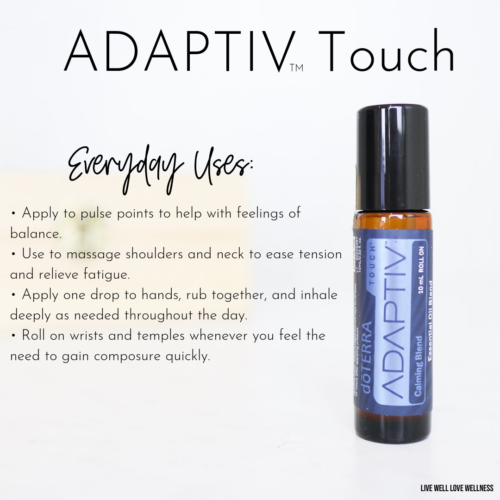 Clinical Studies on doTERRA Adaptiv
After years of research doTERRA conducted clinical studies with a wide range of participants from all different age groups, starting as young as 12!
Only being told they would be trialling a new product, participants were split into two separate rooms (one with Adaptiv diffusing and one with a placebo) and told they had to complete 2 assessments to ensure they were the right candidates for the trial.
This is how doTERRA's scientists were going to conduct the study.
Upon walking into the rooms participants were faced with 15 math and word problems and a big countdown clock with 12 minutes on it.
Just thinking about that makes me want to reach for my Adaptiv!
Wearing a temperature strip on their head and tracking their heart rate participants were to complete the problems then cross over into the other room and complete the other assessment.
The results were more than they had expected!
Even though the questions on the assessments were quite difficult (to create a feeling of stress) the participants scored higher in the room diffusing Adaptiv with lower, more consistent heart rates.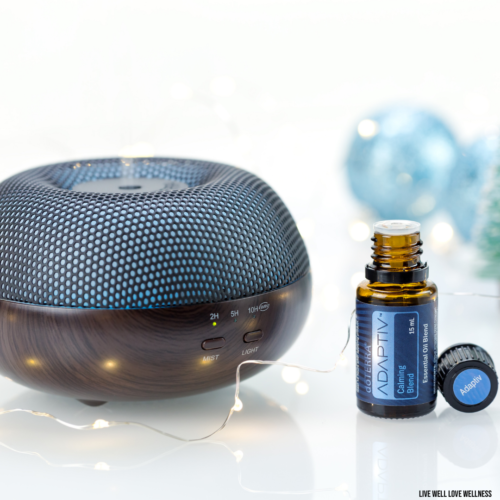 It was also confirmed that those in the non-placebo room actually FELT less stressed.
The purpose of "keeping them in the dark" was to ensure that they got the most honest and real results.
As promised the participants were invited to participate in trialling a new product, but this time they were aware of the trial.
Three separate blends were presented to the groups and they were asked to rate them on a scale of 1-9.
No surprise Adaptiv was rated the highest with most people giving it a rating of 8!
Now remember the products intention had not been explained to the people participating, but the words we have become very familiar associating with Adaptiv were brought up.
Words like calming, positive & happy were music to the doTERRA scientists ears.
This was just the beginning, with further trials being performed in regard to the capsules and how it affects brain cells on the molecular level.
How to use Adaptiv Essential Oil
So many people love Adaptiv Essential Oil for good reason.
Rheanne, a beautiful customer shares her own personal experience of using Adaptiv with you:
"When I tell you I have this oil and use this oil everywhere I mean EVERYWHERE!
I like to start my day by using my Adaptiv touch roller and applying it to the soles of my feet and pulse points.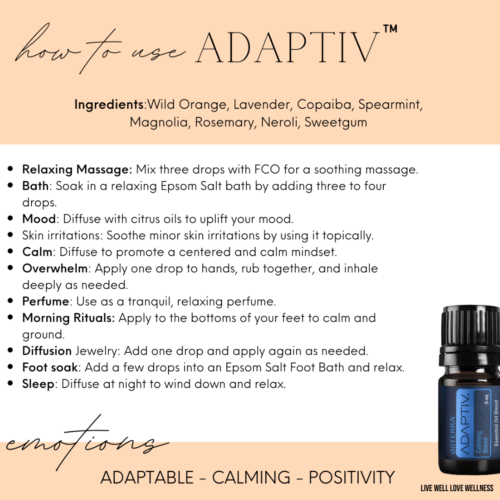 As someone who really struggles with anxious feelings, it absolutely gives me that calm and boost of confidence I need to be able to tackle the day ahead.
I will also have 1 of my Adaptive capsules just to really make sure I am starting my day with the most positive feelings.
When I get into my car it is the first thing I smell coming from the lava diffusing beads hanging over my mirror.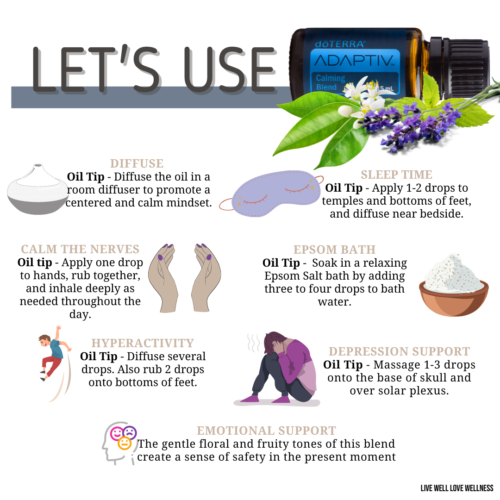 Throughout the day if I start feeling anxious, overwhelmed or a bit on edge I will take a moment either to re-apply to my pulse points (if out and about) or apply a drop to my hands and inhale while doing some nice deep breathing….but it doesn't stop there!
When I am getting ready for bed the Adaptiv blend is without a doubt in my bedroom diffuser every night helping me to wind down, relax and reset before settling in for the night."
Since the release of the Adaptiv essential oil thousands of people have been enjoying the calming benefits and using the blend in ways Rheanne has kindly shared with you.
A summary of the main uses are: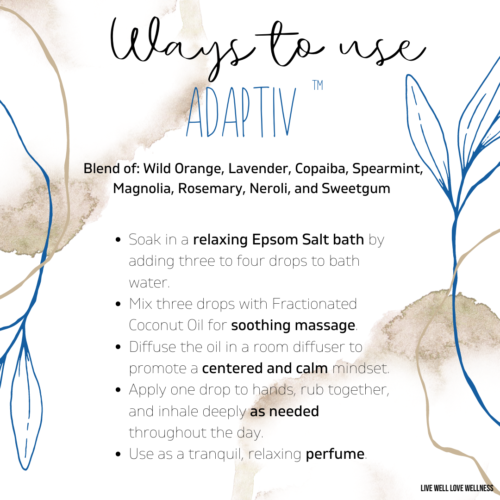 Soaking in a relaxing Epsom Salt bath by adding three to four drops to bath water.
Mix three drops with Fractionated Coconut Oil for soothing massage.
Diffuse the oil in a room diffuser to promote a centered and calm mindset.
Apply one drop to hands, rub together, and inhale deeply as needed throughout the day.
Apply to pulse points to help with feelings of unease.
Roll on wrists and temples whenever you feel the need to gain composure quickly.
Adaptiv Diffuser Blends
Adaptiv essential oil is well known for its amazing aromatherapy qualities and diffusing Adaptiv oil is a beautiful way to reap the benefits it has to offer.
There are many amazing Adaptiv diffuser blends you can explore.
Here is one of my favourite: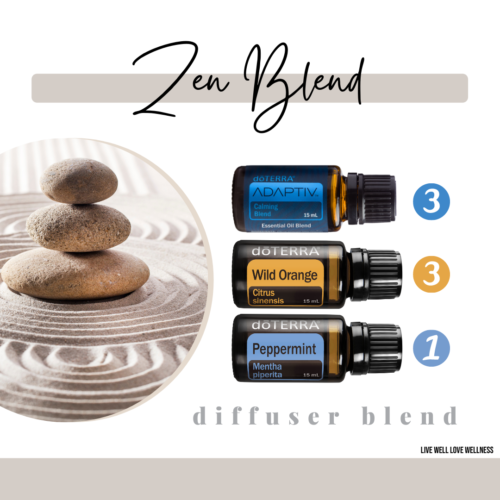 Others to may like to try: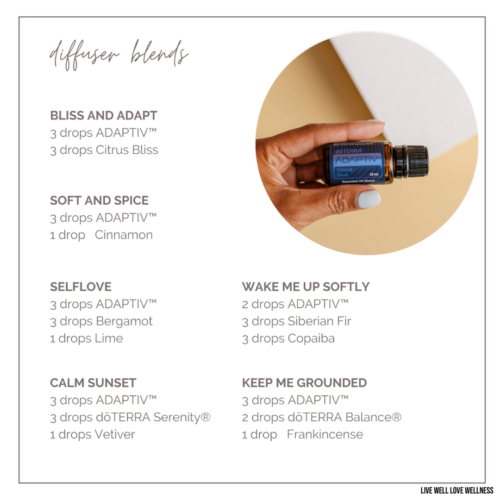 For more inspiration check our our blog on Adaptiv Diffuser Blends.
Calming the Nervous System with Adaptiv Oil
Adaptiv Essential Oil has an amazing way of supporting and calming the nervous system and this is why it has the effect and outcomes it has for people.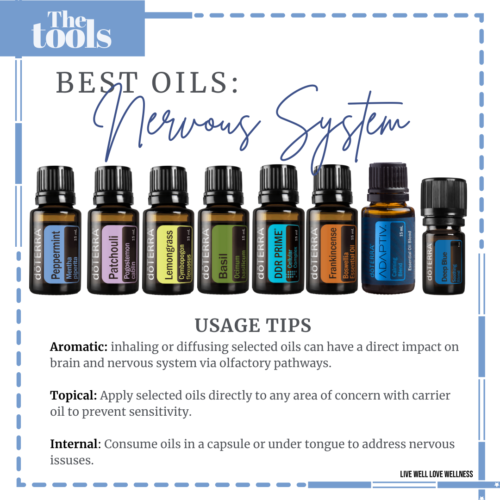 The ingredients within Adaptiv Essential Oil and their contributing benefits are shown below: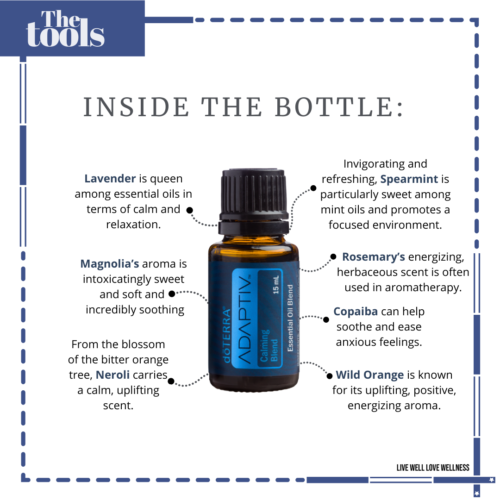 Adaptiv doTERRA Australia
Adaptiv essential oil is currently available in Australia along with the doTERRA Adaptiv Touch, however the doTERRA Adaptiv Capsules are only available through the US warehouse which you can access through your Australian account.
If you have a US doTERRA wholesale account you can access all three of the doTERRA Adaptive Essential Oil Products.
Anyone can log into their doTERRA wholesale account at mydoterra.com.
How to get Adaptiv Essential Oil in Your Life
If doTERRA's Adaptiv sounds like something you would like to experience you can do so with a wholesale account.
A wholesale account gives you access to doTERRA's essential oils at 25% off retail price.
All you have to do is set up your own doTERRA wholesale account and choose which starter pack or alternatively which single oils you would like to purchase.
There starter packs are amazing and available with bulk discount prices.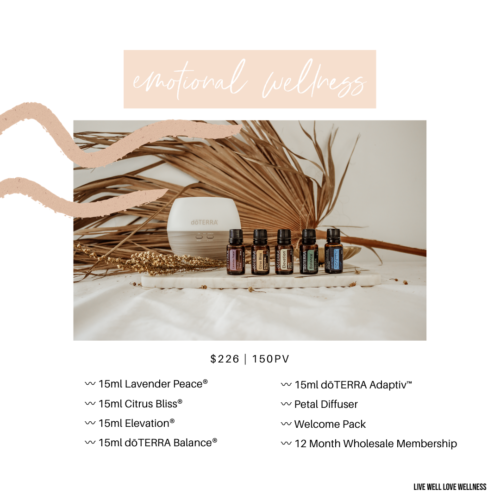 If you are after the Adaptiv oil then the Emotional Wellness Starter Pack is a great place to start. It contains five amazing oils plus a diffuser.
The starter packs offer so much value and also waive the membership fee of $35.
This alone makes them a very valuable and affordable way to purchase top quality essential oils.
If you are interested in looking at all options you can take our Starter Pack quiz to see which pack is the best for you.
Click below to access the wholesale essential oil account perks and learn how to take advantage of the wholesale essential oil pricing today.
Adaptiv Capsules – Available on the US store accessed via your wholesale account
Adaptive Touch Roller – Available on both the AUS and US stores accessed via your wholesale account
Adaptive Blend 15ml bottle – Available on both the AUS and US stores accessed via your wholesale account