Elevation is an essential oil blend that is loved by many people who are after a natural way to boost energy and mood.
This blog post will tell you all about this amazing blend and how you can use it to support emotional wellbeing every single day.
What is Elevation Essential Oil?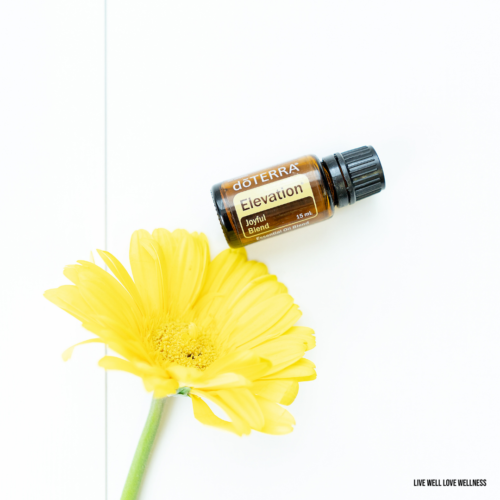 The Elevation essential oil is a blend from doTERRA known as the joyful blend and as the name suggests it is a combination of 11 essential oils that blend euphoric scents to elevate mood.
It is described to have a floral citrus and sweet aroma.
The ingredients for this blend are lavandin flower, tangerine peel, lavender flower, amyris bark, clary sage flower/leaf, hawaiian sandalwood wood, ylang ylang flower, ho wood leaf, osmanthus flower, lemon myrtle leaf and melissa flower/leaf.
Benefits of using Elevation Essential Oil
Elevation is an amazing blend for those moments when you need to be revitalized.
This exciting blend provides an invigorating combination of essential oils that can set the stage for feelings of confidence.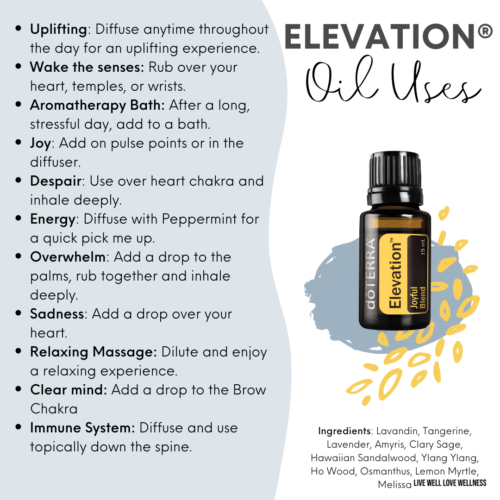 It has an uplifting aroma which can help to enliven the senses.
The aroma can also be refreshing and energising, perfect for the early morning.
It can also promote a revitalising environment.
Elevation comes in a 15ml bottle which is perfect for adding straight to the diffuser.
It can also be used to create your own roller blends.
How and When can I use Elevation Essential Oil?
Elevation can only be used topically and aromatically.
It is perfect to use in the morning when you first wake up to help promote self worth and empowerment.
And also helps to lessen feelings of restlessness. Just add 3-4 drops of elevation on its own or with your favourite oils to the diffuser right after you wake up.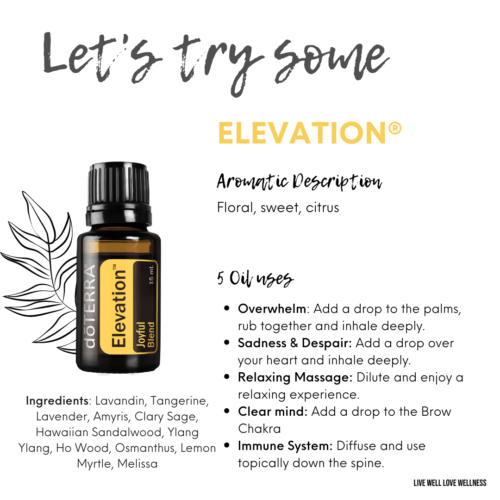 If you have kids, Elevation is also a great oil to use to start their day.
Add 3-4 drops to the diffuser in the morning before the kids wake up to create a positive and energised environment
Elevation can also be used topically to quickly elevate mood and promote a revitalizing aroma. Just rub over heart wrists or temples.
Remember to use a carrier oil if you have experienced sensitivity.
Adding 1-2 drops to a warm bath is also an amazing way to use this oil to end the day. It helps to promote a restful uplifting experience after a long day.
You can also create a refreshing and uplifting room spray by adding 10 to 15 drops to a 200ml spray bottle and then top up with distilled water. Be sure to shake well before each use as oils and water do not mix.
Elevation can also help when someone is experiencing grief. Apply to chest and pulse points.
When feeling overwhelmed you can apply under the nose, ears and back of the neck to help feel more at ease.
Photosensitivity
With topical use apply with caution. Elevation is considered to be a photosensitive oil. Photosensitive oils are oils that don't react well when exposed to sunlight and UV rays. These tend to mainly be the citrus oils or blends that contain the citrus oils.
Some essential oils contain furocoumarins, a special class of constituent that can cause photosensitisation of the skin.
The most commonly found furocoumarins in essential oils are bergapten and oxypeucedanin. The chemical structure of these molecules (and their metabolites) allows them to form cross-links with skin cell DNA, in turn making the skin especially susceptible to UV radiation.
When exposed to direct sunlight after topical application of a photosensitive oil, the skin may become temporarily darkly pigmented, red, or irritated.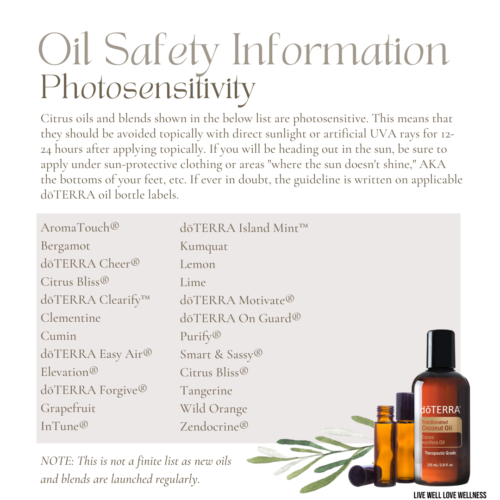 Photosensitivity applies to the topical use of essential oils only and do not pose the same risks when used internally. When using a photosensitive essential oil topically, avoidance of sunlight is recommended for up to 12 hours after use.
As always with using essential oils exercise caution when applying topically. Avoid contact eyes, inner ears and other sensitive areas.
Although rare some oils can cause skin irritation to those with sensitive skin. Many people can use this blend with no issue but precaution is always recommended.
When using oils for the first time apply a small amount to see if your skin reacts. If any irritation occurs you can dilute the oils a little with some Fractionated Coconut Oil (FCO) before applying FCO is a carrier oil used to dilute stronger oils to lessen sensitivity when applying topically.
FCO is also great for the skin leaving it feeling silky smooth.
FCO will always remain liquid unlike the thick, unrefined coconut oil you can find at grocery stores and it won't clog your pores.
Some other great carrier oils are sweet almond oil, jojoba oil and grapeseed oil
Why I choose to support my Family with Natural Products over Chemical based Products
As a chemical scientist I have always been interested in how chemicals affect our body and what side effects or responses our body can have when heavy metals and toxic chemicals are at play.
I know now the detrimental effects of harsh chemicals on the body including cancer, auto-immune, respiratory issues, immune issues, skin problems, gut problems and the list goes on.
For this reason I am prepared to do whatever it takes to stay clear of chemical based products.
The use of dangerous artificial chemicals such as fragrances to make you or your house smell nice 'boggles me'.
Switch the candles and air fresheners for diffusers to create a safe and clean environment for your family.
Going back to nature is what we all need to do. Everything we need is already available to us.
So our house is complete with pure, third party, tested, transparent essential oils, along with other plant based blends to support energy, vitality, help us feel good, uplift mood and support low and high feelings.
Why I choose doTERRA for my Essential Oils
There are so many different brands of essential oils that you can purchase in the world today, however many, as high as 95% of essential oils on the market are altered in some way.
If we choose an essential oil that has been altered or tampered with, it can actually affect the beneficial properties of the oil.
For this reason the essential oil will not do what we want it to do in our body.
You are sacrificing so much when you choose a cheap, inferior brand that alters its pure oil for profit. As you can see, it is so essential that you choose a pure essential oil.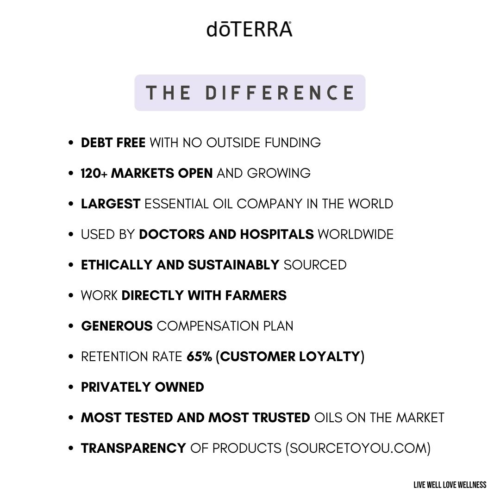 Personally I use doTERRA essential oils. as already discussed for good reason.
They are one of the top quality brands worldwide. Their oils are unadulterated, meaning they are 100% pure essential oils (in true terms) and are also tested by third parties.
The testing process is very transparent and you can even check up on every single essential oil that you purchase for the makeup and composition. You can do this by going to the Source to You website.
Every batch of oil is tested for any adulteration and the results of each oil are provided on a pdf document.
This process gives customers confidence and reassurance that doTERRA is providing us with top quality products which are so essential for good health.
How to get your own Elevation Essential Oil
If you would like to purchase the elevation essential oil blend you can do so with a wholesale account. A wholesale account gives you access to doTERRA's essential oils at 25% off retail price.
All you have to do is set up your own doTERRA wholesale account and choose which oils you would like to purchase.
There are also amazing starter kits available with bulk discount prices.
The starter kits are amazing value and also waive the membership fee of $35. This alone makes them a very valuable and affordable way to purchase top quality essential oils.
Click below to access the wholesale essential oil account perks and learn how to take advantage of the wholesale essential oil pricing today.