101 uses of coconut oil has been created to help the health and wellness enthusiast learn a few more handy tips on how to use the most amazing and enriching oil.
What is coconut oil?
Coconut Oil is the new in-thing and rightly so as it has amazing properties that support skin, hair, your immune system, mental state, hormone support, digestive health, contains amazing healthy fats and it is wonderful in cooking and DIY products.
We use coconut oil daily, in fact, it has replaced many other oils in our home like vegetable, canola, rice bran, sunflower, and peanut as it offers so many health benefits and the source is not genetically modified.
There are so many uses for coconut oil that is it a must to have around the home.
101 uses for coconut oil
I'd like to share my top 101 uses for coconut oil with you:
Food
Homemade Chocolate
As a healthy snack on a spoon
Add to your fry pan in place of other oils
Add to smoothies
Add to cake recipes in place of butter
Grease pan before baking
Add to a curry paste
Season your cast iron pans
Add to green or herbal tea
Add to spice mix and rub vegetables for roasting
Add to spice mix and rub meat before roasting (I like this on my roast chicken and roast lamb)
Add to nut butter to make it extra smooth
Fry pancakes such as my banana pancakes
Add to coffee for a creamier flavor
Make coconut lime squares
Make chocy strawberries for the kids
Make chocy apricots for the kids
Make Banana Choc Chip Bread
Make Roast Vegetable Frittata
Make Roast Pumpkin Soup
Make Blueberry Muffins
Make Vegetarian Pasta
Make Hazelnut cocoa spread
Make Tahini treats
Pregnancy, Babies, and Children
Soak in a lavender bath with coconut oil and lavender essential oil
Make a stretch mark balm
DIY night cream
Add to sore muscles with supportive essential oils like ice blue and frankincense
Add to feet with essential oils for relaxation and sleep like lavender peace and balance
Make a DIY natural body lotion
Make an upset tummy rub
Use on sore and cracked nipples
Jaundice support rub
Make a vapor rub for the kids
Make an eczema rub
'Calm the Farm' foot rub
Kids night time rub
DIY cradle cap balm
Baby massage
Self Care
Make shaving cream
Make lip balm
Make a lip scrub
Make a face wash
Face moisturiser
Teeth whitener
Body Boost with essential oils like lavender, frankincense, and orange
Massage
Face mask
Face toner
Muscle rub
Oil Pulling
Skin Conditioner
Cellulite serum
Eye Brow Shaper
Makeup brush cleaner
Lubricant (natural and not petroleum-based)
Makeup remover
Foot moisturizer
Hair treatment (waves)
Bath Soak
Hot oil hair treatment
DIY Shampoo recipe
DIY Hair Conditioner
DIY Hair Rinse
Cracked feet rub
Scar Balm
Homemade lotion bars
Cold sores and tea tree oil
Apply to sunspots
Cuticle Oil
Great tanning oil
Around the Home
Make a natural insect repellent
DIY Sunscreen
Headlice treatment
Clean your splashback
Remove sticky label residue
Oil chopping board
Polish timber floors
Soak knives and forks in coconut oil to remove rust
Add to a damp cloth and rub grime off
Clean bathroom tiles
Detail car with fluffy cloth and polish
Remove chewing gum
Use on squeaky door hinges
Pets with skin issues
For Health and Wellness
Flushot in a bottle
Arthritis relief
Asthma remedy
Supports digestive health
Balance cholesterol levels
Improve mental alertness if taken daily
Supports hormones
Boost metabolism when used in food
Support against sunburn
How do I choose a good coconut oil?
Sourcing a good coconut oil is important. I look for an oil that comes from a company I can trust. It needs to be certified organic and preferably in a glass jar. I typically use an oil that contains short-chain fatty acids as well as medium-chain fatty acids. The short-chain fatty acids contain your anti-bacterial, anti-parasitic and anti-microbial characteristics, and it's, for this reason, that coconut oil is great for oil pulling and putting on the skin especially if you have an infection or something similar. The medium-chain fatty acids allow you to have quick energy as they are digested differently. Coconut oil also contains saturated fat which means it doesn't oxidize. You can heat coconut oil and there is no oxidation process. For this reason, it doesn't go off and it doesn't absorb the oxygen so therefore it doesn't cause free radicals in your body, which in turn requires more antioxidants (the good source) in the body to offset this. For this reason, coconut oil is a wonderful oil for cooking.
The difference between fractionated coconut oil and coconut oil?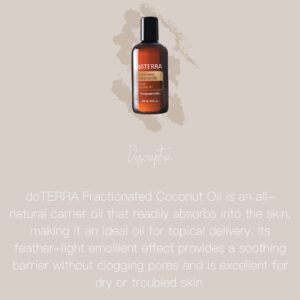 Fractionated coconut oil (order here) does not contain the long-chain fatty acids found in normal coconut oil and for this reason, remains liquid when your normal coconut oil will turn solid. It is a great option for topical use as it is liquid, can be used in rollerballs, spray bottles and pump packs without an issue, and does not normally have the coconut smell (if you are not a huge fan) that the solid coconut oil carries.
Enjoy your coconut oil it's a wonderful healthy resource in so many ways!
Much love and happiness