You postpartum bag may contain many things but today, I want to share with you the top 8 baby products that are essential for your postpartum bag.
This might not be something that you have really thought about, but if you are coming into this phase of your journey, this might be something to consider.
Now, when we think about baby products, we have to remember that there's many different options available to us.
And there's also many options that contain nasty chemicals that we actually don't want to be putting anywhere near our children.
Since becoming a mum it has always been a top priority of ours to support our children's health.
Chemical exposure is very detrimental, and the compounding effect of this over time can lead to all sorts of health issues.
As a mum, I always wanted to protect my kids from unnecessary exposure to chemicals.
And by choosing baby products wisely, you can give them a fantastic start to life by utilising the amazing, natural options that you have out there to support they're growing little body.
So now let's dive deep into the eight top essential baby products for your postpartum bag.
Baby Essential 1 – Cradle Cap Serum for Skin Health
So the first essential for your postpartum bag is to have a good quality cradle cap serum on hand.
Now my kids, I know needed this and yours might too.
But the options out there, those sitting on the supermarket shelf are not what you would call clean products or natural products.
So you have to consider making something of your own.
Or make sure that you're reading your labels and when you do choose a cradle cap serum that it has only natural ingredients.
How do you identify if a product is natural?
If you look at the labels it is always a good indication.
If you cannot pronounce or understand the ingredient, often it's artificial, synthetic chemicals.
If you don't know where to begin looking at reading labels, I do have a guide on that.
When we think about our little ones, we need to be nurturing them with nature.
So a cradle cap serum is a simple product that you can make from home and save a lot of money in the process.
You just need some fractionated coconut oil and some good quality essential oils.
Now you can make a good quality cradle cap serum in your post-partum bag with this recipe below:
Baby Essential 2 – Nappy Rash Spray for your Postpartum Bag
The number two baby essential for your postpartum bag is nappy rash spray.
Nappy rash spray is a great, proactive product that you can be using at every nappy change.
Now I'm not talking about any nappy rash spray.
You have to again read the labels and make sure it's a clean product.
But if you find a clean natural product, that's amazing.
If you'd like to make your own and save money in the process, you can do that as well.
All you need is some fractionated coconut and quality essential oils and you can create a nappy rash spray.
The proactive use of a nappy rash spray that has antiviral, antibacterial properties is an amazing way to keep the nasty nappy rash a bay.
Baby Essential 2 – Tummy Discomfort Roller for your Postpartum Bag
The number three baby essential is a tummy discomfort roller.
A lot of babies suffer from tummy discomfort, so having a natural tummy roller or solution to support them at any given time is essential for your postpartum bag.
We personally used a tummy essential oil roller, and it was amazing.
We just utilised a blend of incredible digestive and tummy support essential oils, and we would rub it on their tummy as needed.
It was an amazing support.
And to this day, even though our kids are a little older now, they still benefit from this remedy.
Baby Essential 4 – Night Time Massage Oil for Supporting Baby
The fourth product for your postpartum bag is a night time massage roller or oil blend.
You can store the solution in a dropper bottle or roller form, if that's easier, but every night we would utilise this massage oil.
Not only does massage promote a restful night's sleep, but using something like essential oils, such as lavender, with its amazing calming properties, sets your children up well for a beautiful, restful night's sleep.
It is a great idea to make sure you have some supportive calming products available, read the labels and make sure they don't have any nasty chemicals in them.
For those who do not want their children to be exposed to harmful chemicals, you now know how you can nurture and calm in a natural way with this night time massage roller.
Baby Essential 5 – Barrier Cream for Protecting Babies Skin
The fifth product for your postpartum bag is a barrier cream.
It can be extremely challenging to find a barrier cream that doesn't have nasties in it.
And so making your own is a great option.
You can use products like shea butter, coconut oil, beeswax, zinc oxide and essential oils to really nourish, protect and support babies skin.
Apply barrier cream when needed.
If you are using the nappy rush spray at every change, it's unlikely that you need the barrier cream very often, which means it will usually last quite some time.
Baby Essential 6 – Teething Support Roller for your Baby
The six essential product for your postpartum bag is to have some teething support in there.
Babies teeth at all different ages and you want to be prepared.
It's important that we support them through this stage in a natural way.
There are so many chemical based teething products out there with nasty chemicals that I never, ever wanted to expose my children, too, so I invite you to think about having a natural option for your baby too.
Pop it in your postpartum bag, and when the time comes, you are ready to go.
We personally use a roller of fractionated coconut oil and some essential oils, which you can access the recipe below: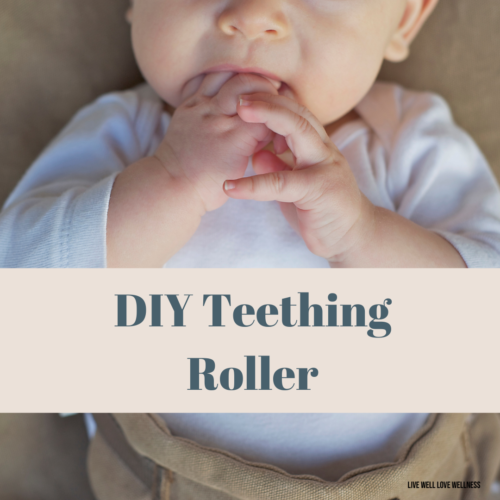 I hope you try this blend because this truly is a game changer for any mum out there.
Baby Essential 7 – Congestion Roller for Respiratory Support
The seventh baby essential for you postpartum bag is a congestion roller.
Now a congestion roller is really another name for having a respiratory support product.
The congestion roller can be applied on the chest and back and bottom of the feet.
It's amazing for congestion when bubba needs a little more support with breathing.
This roller needs to be in your postpartum bag at all times because when baba needs a little support, you have it waiting there ready.
And I tell you now, it doesn't have to be winter for your baby to need some respiratory support.
With a simple recipe of fractionated coconut oil with some essential oils it is so simple to make this roller.
Baby Essential 8 – Baby Wipes for every day use
The eighth product for your postpartum bag is to have some baby wipes.
You CAN find natural baby wipes on the market today, however they are expensive, but you can get them.
Make sure the wipes don't contain harsh preservatives, which can be found in small writing, using technical and scientific names that many do not recognise.
To help identify harsh ingredients in baby products you can use the Think Dirty App which allows you to learn more about additives or download our guide.
Make sure the wipes you do choose to use on your baby DO NOT have nasty chemicals.
You will pay top dollar for good, organic, baby wipes or you can make your own for pennies.
We eventually made our own and loved it. Once I tried them I never went back to the store bought.
Before this, we had been using store bought, organic, baby wipes for some time, and when we made our own, we realised how simple it was.
And I look back now, wishing that I'd done it earlier, because I would have saved myself hundreds of dollars on baby wipes.
Making baby wipes is so, so simple.
You can get a paper towel roll and cut it in half.
You put it in some glass jars, use some warm water, essential oils, fractionated coconut oil and it's super easy.
Recap on the Top 8 Baby Essentials for your Postpartum Bag
So just to recap on the eight essential baby products for your postpartum bag:
Essential one: make sure you have a good cradle cap serum
Essential two: a nappy rash spray
Essential three: a tummy discomfort support roller
Essential four: night time massage blend
Essential five: a safe and effective barrier cream
Essential six: a teething roller
Essential seven: a congestion roller
Essential eight: some good quality, organic baby wipes.
Whether you make these products yourself or you buy them off the shelf, just make sure you read your labels and you're not exposing your kids to harsh chemicals.
The whole point of choosing natural is to protect their growing little bodies, not to overload their bodies with chemical exposure.
Because the compounding effect over time can result in health issues and it is our responsibility as parents to protect their health in ways we know how.
So hopefully this information has been helpful and it gives you some guidance and ideas on what to include in your postpartum bag.
Know someone who is expecting feel free to share this information with them also.