I often get asked Why Everyone is using On Guard Oil to Support a Healthy Immune System and my short answer is because it works.
When the pandemic hit all On Guard supplies SOLD OUT! Yes they were wiped out because so many understand the power and brilliance of this blend and were eager to use it for their family.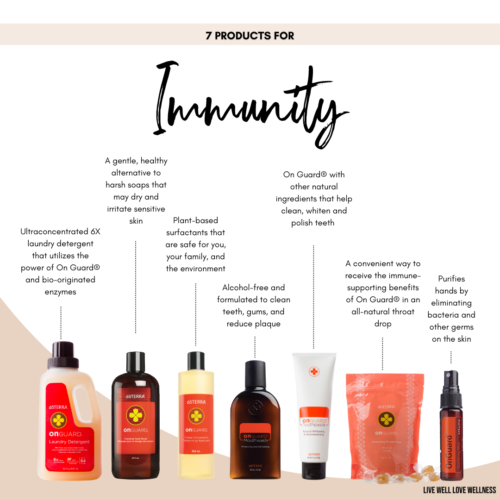 On Guard blend is a fantastic natural way to support your body and your families body when you need it most. Having said that we always advocate for a proactive approach and using On Guard daily gives you the best outcomes.
On Guard contains amazing essential oils such as Wild Orange Peel, Clove Bud, Cinnamon Leaf, Cinnamon Bark, Eucalyptus Leaf and Rosemary Leaf/Flower essential oils.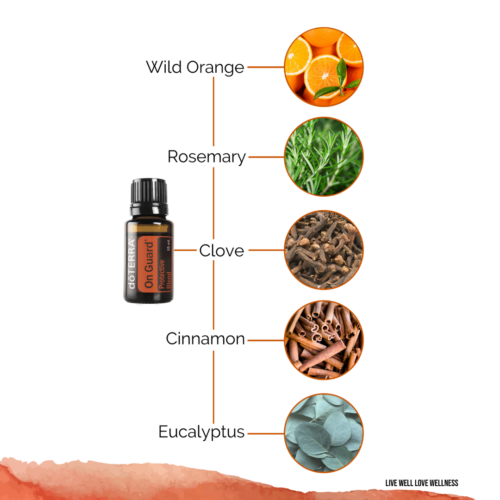 doTERRA On Guard with its warm, spicy, camphoraceous and woody aroma is a powerful essential oil blend. With revitalising Wild Orange, Clove and Cinnamon, diffusing invigorating doTERRA On Guard can help energise and uplift any home, workplace or study environment.
doTERRA's On Guard is sure to help you stay feeling well and not suffering from those pesky little bug symptoms.
Are you looking for a natural way to help fight off those nasty germs and boost your immune health?
Then why not check out doTERRA's On Guard collection.
On Guard Oil Products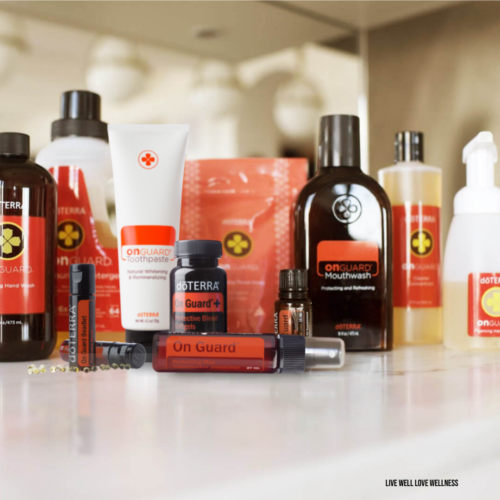 On Guard by doTERRA has many different uses, the blend has been incorporated into many of doTERRA's leading edge products from cleaning to sanitising mist to chewable tablets and toothpaste. On Guard oil can be used is so many ways you will be protected from nasties no matter where you are or what you are doing. Below are some of the items you can find in the On Guard collection and how to use them.
On Guard 15ml Protective Blend
The On Guard protective blend can be used aromatically, topically & ingested. It really is an all round oil! With anti-bacterial and anti-viral properties this is a must for your toolkit.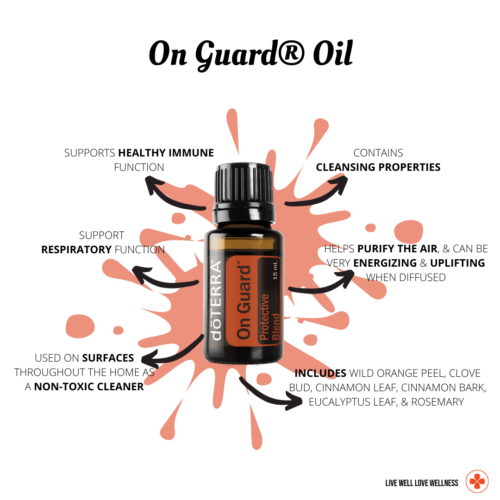 On Guard Cleaner Concentrate
Are you looking at creating a low-tox home? Then the doTERRA On Guard cleaner concentrate is definitely a great place to start: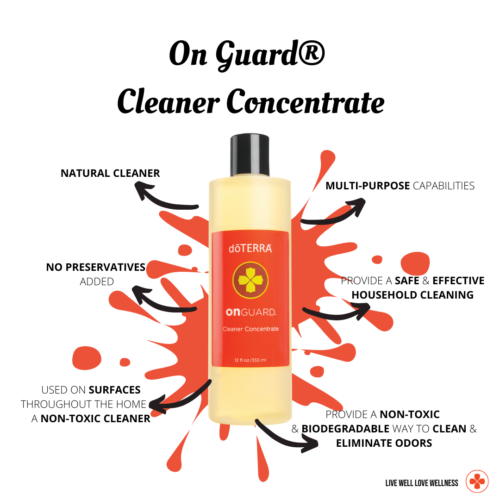 MULTI-PURPOSE CLEANER: Mix 2 tbsp of concentrate per 700ml of water.
BATHROOMS: Mix 3 tbsp of concentrate per 700ml of water.
DISHES: Mix 3 tbsp of concentrate per 3.5 ltr of water.
TOUGH JOBS: Apply concentrate directly on designated area and let soak.
On Guard Hand Wash
This low ph balanced foaming hand wash is gentle on the skin and won't leave your hands feeling dry and/or sensitive.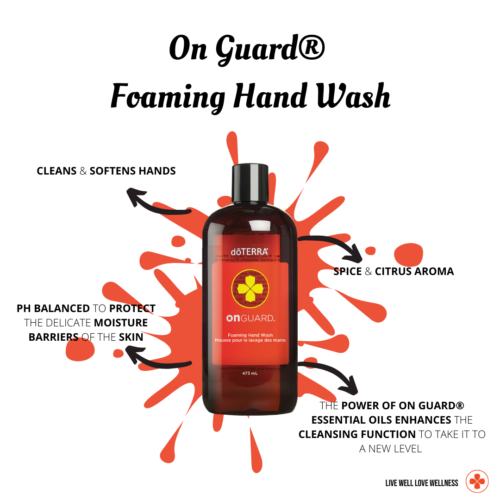 On Guard Beadlets
An on the go answer to supporting your respiratory function and boosting your immunity. Being that they are in a handy little container means you can have them available to you anywhere anytime.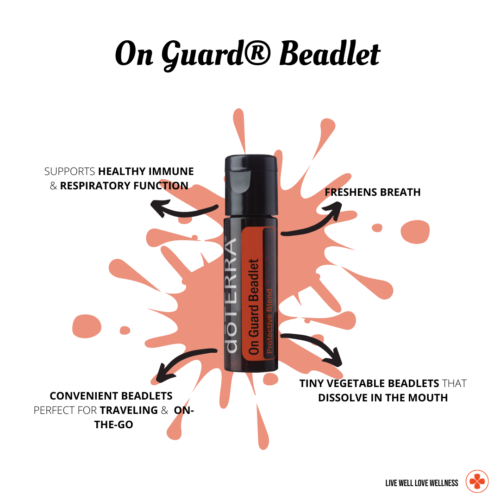 On Guard Toothpaste
Not only is this a natural toothpaste that leaves your mouth feeling clean and fresh without the strong and sometimes overbearing taste, but it is also a fluoride-free re-mineralizing toothpaste that's supports the repair and remineralisation of your enamel.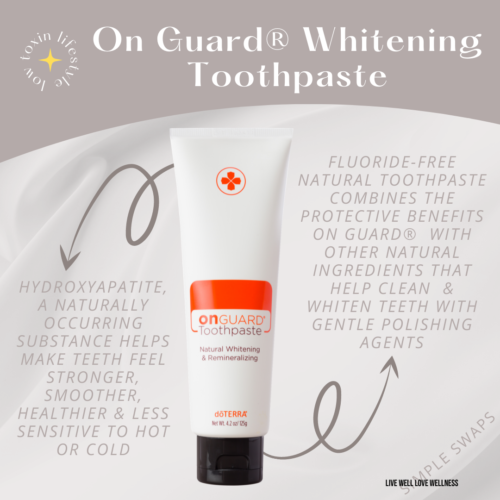 On Guard Toothpaste Samples
The convenient size of the On Guard toothpaste sample sachets means you can share them with your friends and family! They are also a great size to take with you when you are traveling.
On Guard Laundry Detergent
Another easy step to creating a low-tox lifestyle starts with this amazing synthetic fragrance free, colour safe, laundry detergent. Imagine walking around, smelling the beautiful On Guard aroma and knowing that not only is it a safe option for you and your family, but also for our environment.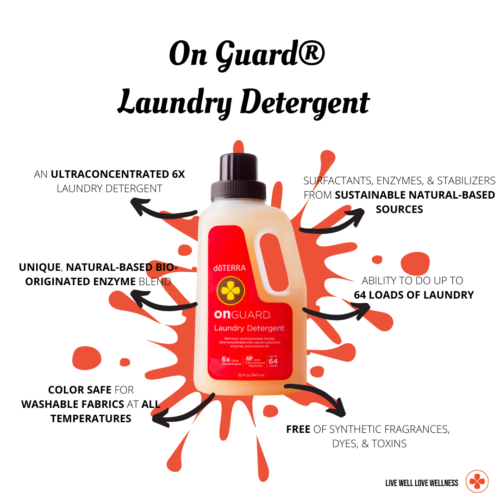 On Guard Chewable Tablets
To help boost and maintain your immune health it's as simple as chewing 3 tablets per day or as needed. It contains Vitamin C, Zinc and Vitamin D to offer overall protection.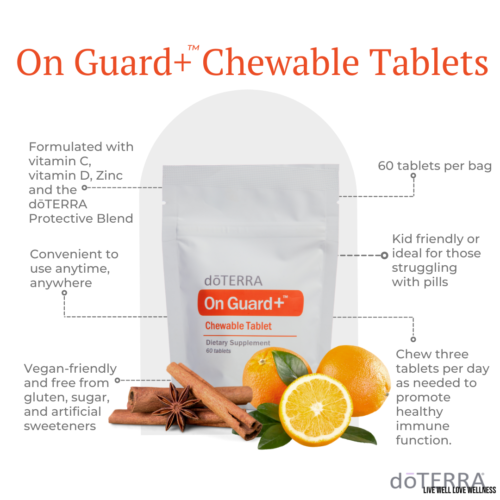 On Guard Mouth Wash
If you are like me and find that regular mouth wash has a harsh taste and sometimes burning after affect then you definitely need to try the On Guard mouthwash. Being a natural product this alcohol free mouth wash not only helps you keep your oral hygiene in check, but it also will brighten your smile, promotes healthy teeth and gums and helps to reduce plaque and strengthen teeth. Combine your On Guard mouthwash with your On Guard toothpaste for a natural, clean freshness that will make you want to smile.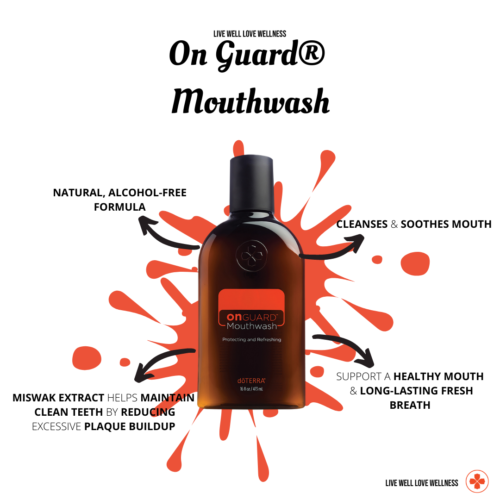 On Guard Throat Drops
With the On Guard throat drops not only will you be soothing your dry, scratchy throat but you will also be killing the germs causing those pesky symptoms at the same time, while helping to boost your immune health. doTERRA On Guard throat drops are made with CPTG Certified Pure Tested Grade essential oils and no added artificial colour or flavours.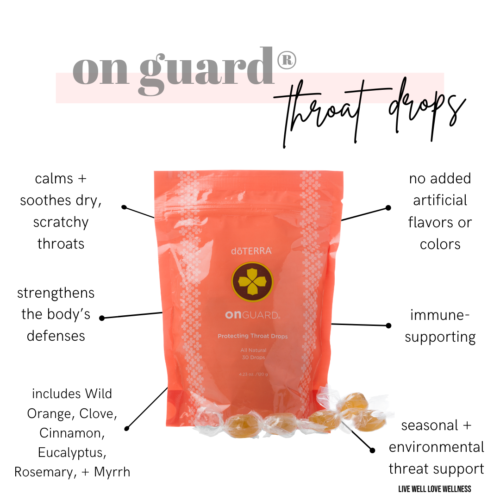 On Guard Sanitizing Mist
A quick drying mist that kills germs without drying out your skin is an absolute must have. This little beauty is compact so it fits nicely in your bag and on top of its sanitising benefits it smells amazing.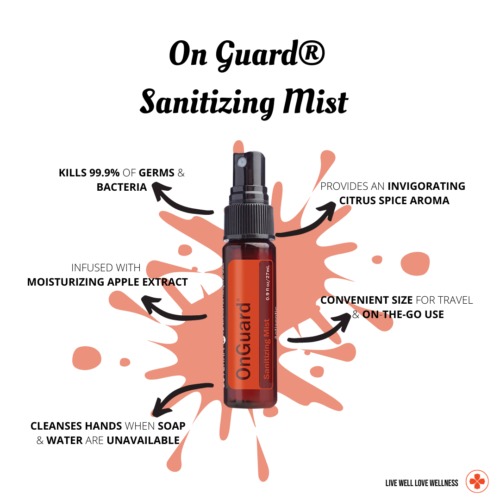 On Guard Touch Roller
The convenient roller form makes it even easy and convenient to apply. Roll on the bottom of your feet to help keep your immune health in fighting form and tackle the effects of seasonal threats.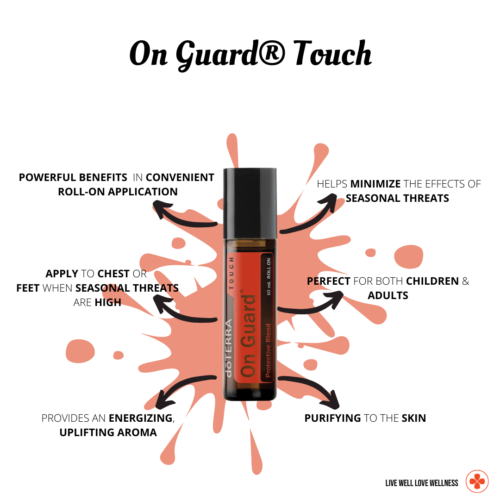 On Guard Sanitizing Hand Wipes
Conveniently sized and individually wrapped, these hand wipes are suitable for cleaning hands, tables at a café, shopping trolleys and so much more. Knowing that you can protect yourself no matter where you are provides piece of mind that we can all appreciate.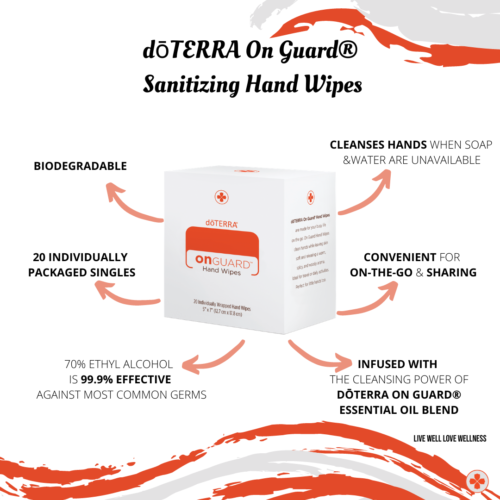 On Guard Soft Gels
Keeping our immune health strong is important not only in the colder months but all throughout the year. These vegetarian softgels are a great additional way to strengthen your immune health when taken on an occasional basis. Take 1 or more softgels as needed to promote healthy immune function.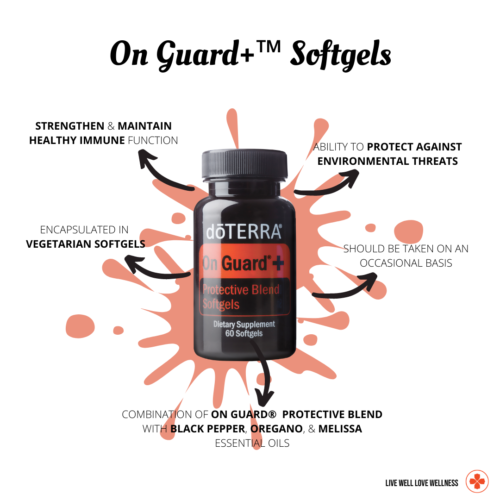 How to use On Guard Oil Products
So many people love On Guard Essential Oil for good reason.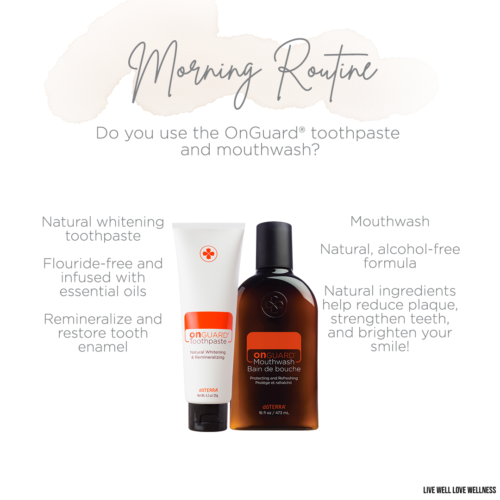 Rheanne, a beautiful customer shares her own personal experience of using On Guard with you:
"This multipurpose, all round oil and its variations can be found everywhere throughout my home. Looking in my bathroom you will find On Guard toothpaste and mouth wash. I started using these when I was having trouble with sensitivity regarding my teeth. Since I first tried doTERRA's oral care with On Guard I have not looked back. The one time I used a different toothpaste due to running out of mine (silly me) I could taste the chemicals, a chemical taste that made me feel sick. Honestly it is the most amazing toothpaste and mouthwash. You don't get that "burning" feeling when gargling like you do with other mouth washes.
Cleaning my floors? On Guard cleaner concentrate.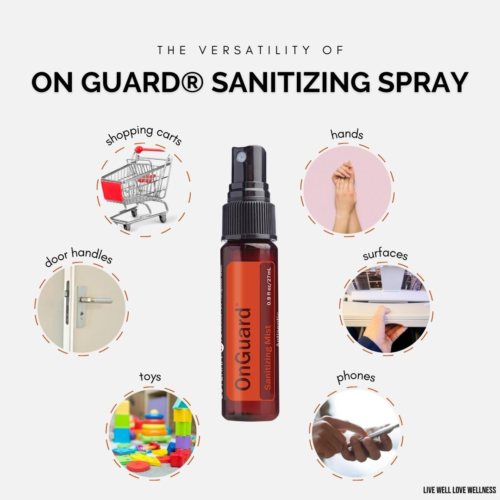 Cleaning my benches, bathroom? On Guard Cleaner concentrate.
Now along with some of the useless items I have in my bag, I have a couple of pretty handy items thanks to doTERRA. The On Guard hand sanitising mist is an absolute must have in my bag, even more so with things how they are at the moment. Having a natural, amazing smelling hand sanitiser available can be such a blessing, I can't count the number of times I have reached for this bad boy while out and about.
Along with the sanitising mist, I also have the doTERRA On Guard sanitising hand wipes. These little babies are perfect for not only sanitising your hands, but wiping down your shopping trolley, a table in a food court, toilet seats in a public bathroom. To know you have sanitisation on hand for any occasion provides me piece of mind."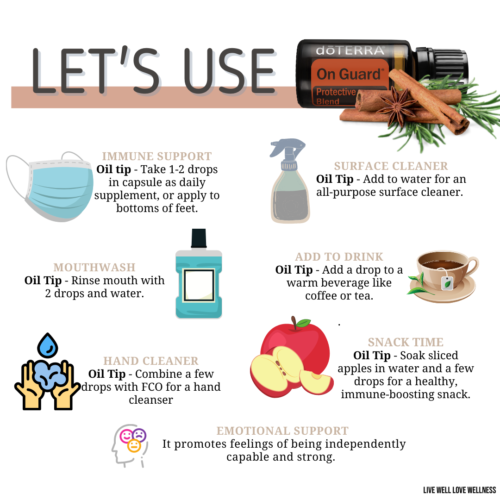 Some other popular uses for the On Guard Essential Oil are:
Add two to three drops in a veggie capsule for an immune boost.
Add to water for an effective all-purpose surface cleaner.
Soak sliced apples in water and a few drops for a healthy, immune-boosting snack.
Combine a few drops of doTERRA On Guard with Fractionated Coconut Oil for a natural hand cleanser.
Use three to four drops in the diffuser of your choice.
Apply touch roller to chest or feet when seasonal threats are high.
Use touch roller on palms of hands to purify skin.
Apply touch roller to wrists or pulse points for an energizing aroma throughout the day.
On Guard Recipes for the Whole Family
On guard is a versatile oil blend that can be used in many fun ways:
On Guard Popcorn is a loved snack in our house.
On Guard Pancakes are a fun and quick breakfast or lunch idea, use almond meal and tapioca in replace of flour, and almond milk in replace of milk if you are looking for a gluten free alternative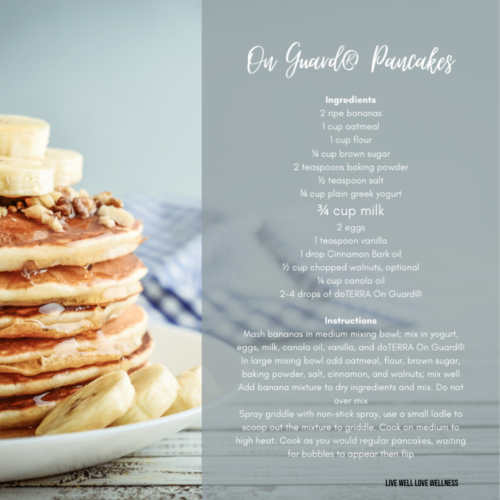 On Guard apples are a fun and healthy snack for the kids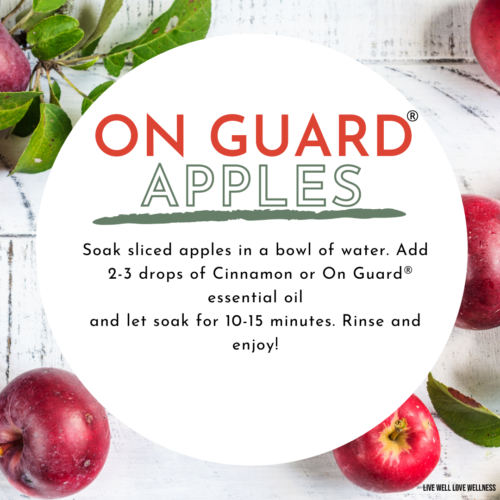 On Guard pumpkin smoothie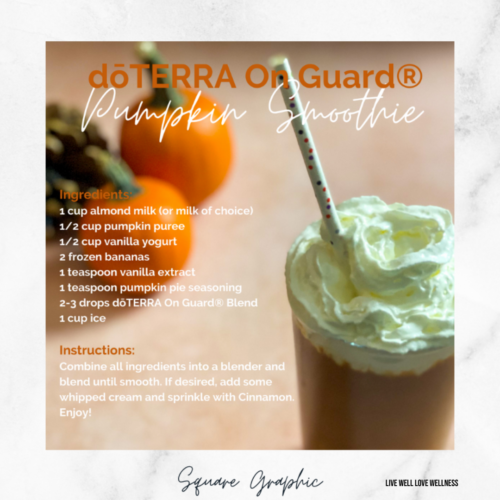 Drop of On Guard in your daily coffee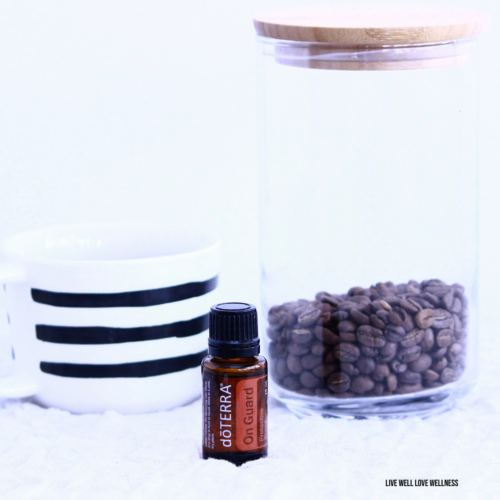 A drop of On Guard in your favourite mulled wine recipe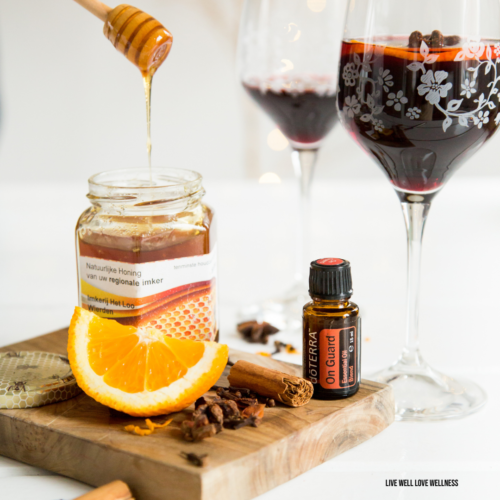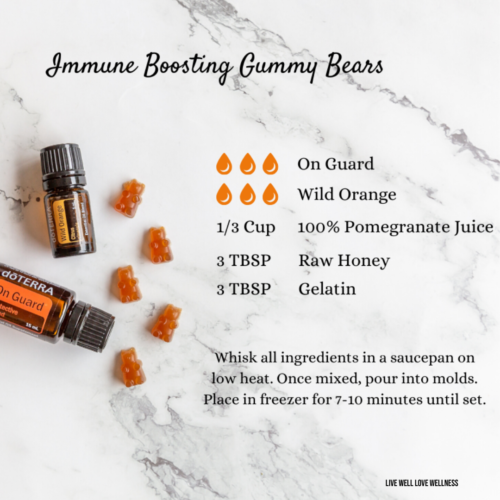 On Guard doTERRA Australia
On Guard essential oil is currently available in Australia along with the doTERRA On Guard Touch, and other some other products listed below:
On Guard Hand Wash – Available on both the AUS & US stores
On Guard Beadlets – Available on both the AUS & US stores
On Guard Cleaner Concentrate – Available on both the AUS & US stores
On Guard Toothpaste – Available on both the AUS & US stores
On Guard Laundry Detergent – Available on both the AUS & US stores
On Guard Mouth Wash – Available on both the AUS & US stores
On Guard Throat Drops – Available on both the AUS & US stores
On Guard Sanitizing Mist – Available on both the AUS & US stores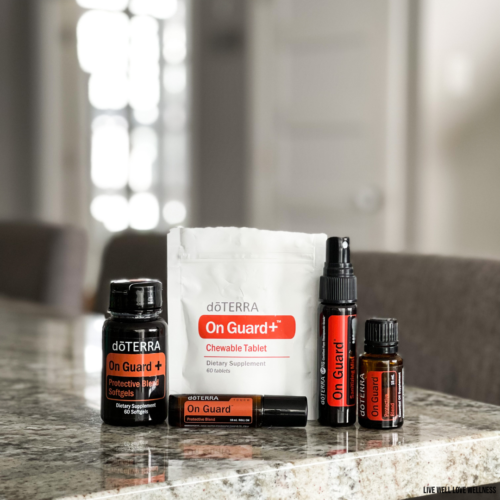 The following doTERRA On Guard products are only available through the US warehouse which you can access through your Australian account:
On Guard Chewable Tablets – Available on the US store
On Guard Toothpaste Samples – Available on the US store
On Guard Sanitizing Hand Wipes 20pk – Available on the US store
On Guard Soft Gels – Available on the US store
If you have a US doTERRA wholesale account you can access all of the doTERRA On Guard Essential Oil Products.
Anyone can log into their doTERRA wholesale account at mydoterra.com.
How to get On Guard Essential Oil in your Life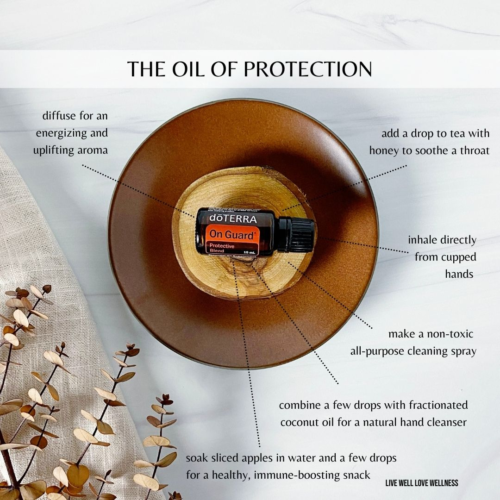 If doTERRA On Guard sounds like something you would like to experience you can do so with a wholesale account. A wholesale account gives you access to doTERRA essential oils at 25% off retail price.
All you have to do is set up your own doTERRA wholesale account and choose which oils you would like to purchase.
There are also amazing starter packs available with bulk discount prices.
The starter packs are amazing value and also waive the membership fee of $35. This alone makes them a very valuable and affordable way to purchase top quality essential oils. Not sure what starter packs suit you best? Take our quiz here to find out.
Click below to access the wholesale essential oil account perks and learn how to take advantage of the wholesale essential oil pricing today.
We hope you enjoy your On Guard products and use them on a daily basis to maintain a healthy immune function for your whole family.